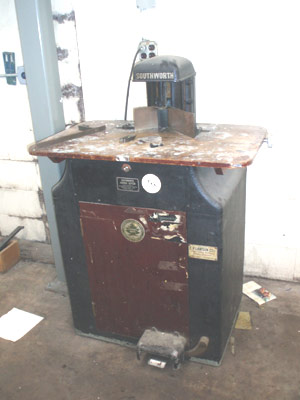 Darby Litho

no longer needs this really neat heavy duty

Southworth Corner Cutter

sold by Lawson Machinery

This Lighted and Motorized Round Cornering Machine comes with 3 - 1/2" diameter cutting blades and is available at a fair price.

All offers considered.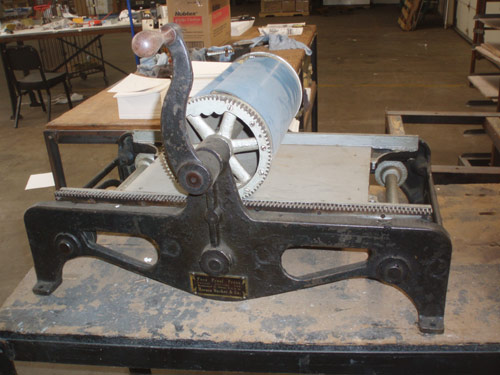 This
Potter Proof Press
is NOT for sale. It was Mike's Grandfather's and will be staying "in the family". It is shown here just because it is such a neat little press..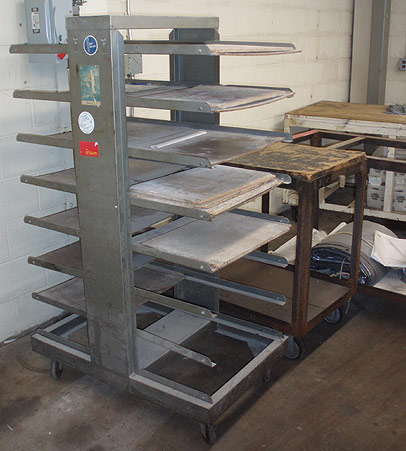 This
Mobile Job/Drying Rack
will handle up to 17 x 22" paper.
~~~~~~~~~~~~~~~~~~~
Large Bindery Tables in the background are also available.
Make offer.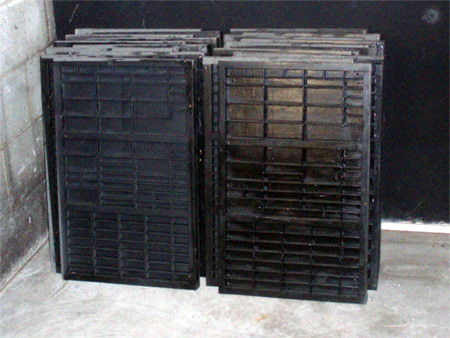 These 3/4 sized type cases have been (very nicely) repainted black and currently lack their Hamilton Handles.

They are clean and usable. New glassine Thompson Cabinet Company handles are available.
There are
14 -3/4 sized Job Cases,
2 Double Cap Cases and
3 Triple Cap Cases.


---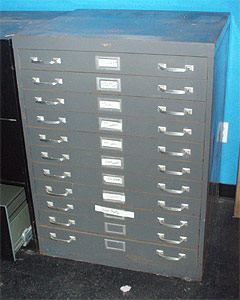 Flats / paper / cuts / Tools Cabinet - 2" deep drawers.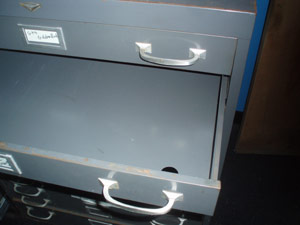 Drawer Detail

(very clean)




---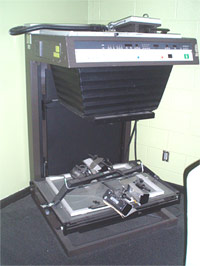 This

Vertical Process Camera

can make negatives for exposing your own Photo-Polymer Plates or positives for exposing Silk Screens.

It is available for

FREE

to anyone who needs one for their shop or studio -

and will use it.







---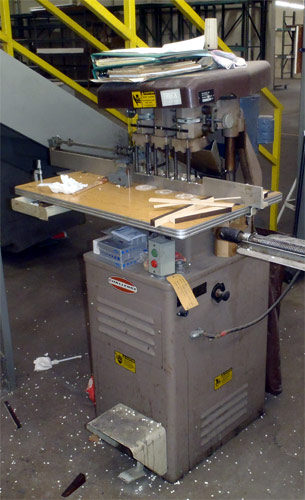 This 3 Hole Challenge Paper Drill is in excellent condition and comes with many spare drill bits of many sizes, drill lube sticks, a package of spare cutting blocks, instruction manual and service documents.


It will drill one, two or three holes at once. A highly productive machine for anyone who does any amount of paper drilling.

Make offer.



---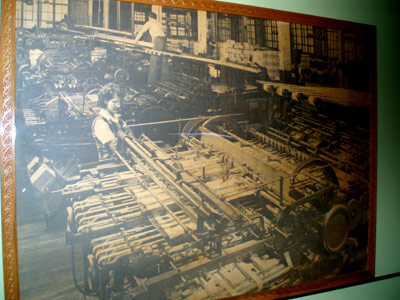 From the Old Days at Darby Litho -

A Photo of

The Bindery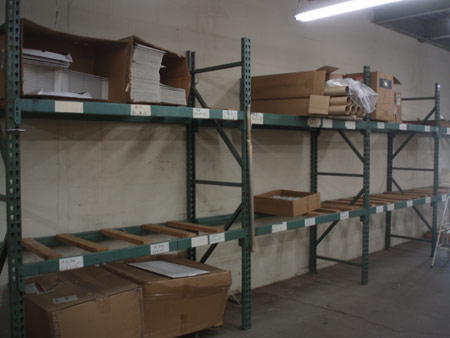 Darby Litho has



Heavy Duty Pallet Racks



- 30" x 5' - more than 5 available.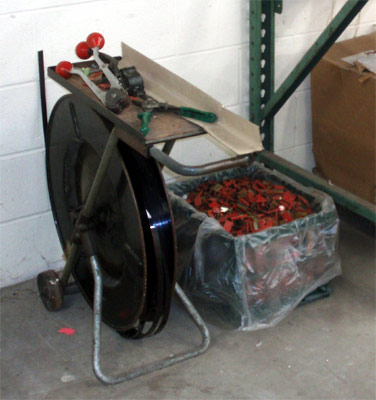 Heavy-duty

Steel Strapping System

- tools, strapping and enough clips to last a lifetime.

Available at
Darby Litho, Somerville, NJ.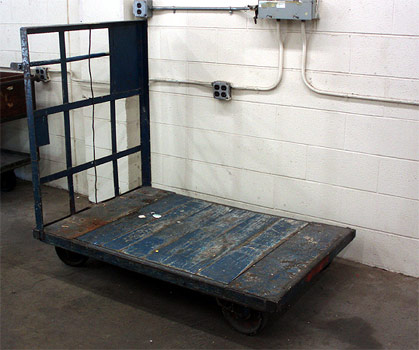 An extremely

Heavy Duty Dolly

- can support a 1,000 pound printing press, a stack of filled type cases, or a full skid of paper.

make offer.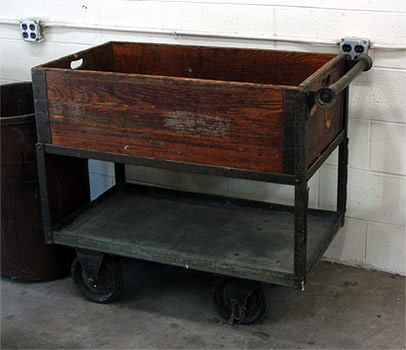 This very heavy duty

Antique Bindery Truck

inclues a removable - and reversible - old wooden bin with handles.

Make offer

---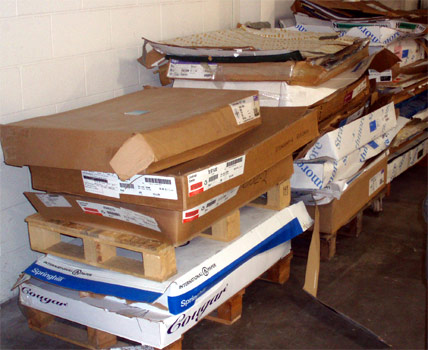 PAPER

- We have a lot of both sealed and open cartons of large sheet stock - 23x35, etc.

Inventory of sealed packages and cartons to follow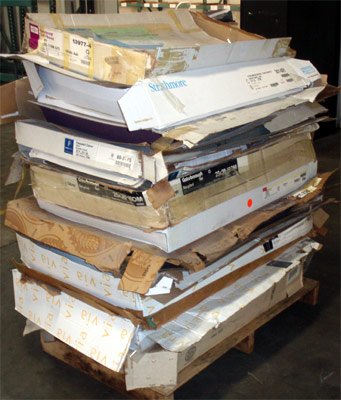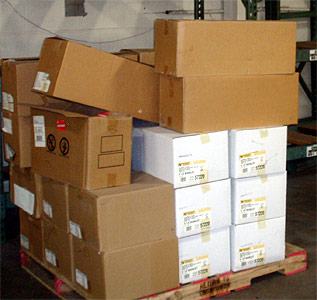 Cartons of A10 White Wove Booklet Envelopes.


---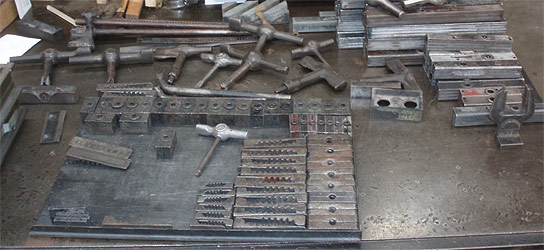 A variety of

Quoins and Quoin Keys

- Wickersham Quoins, Challenge high-speed Quoins, Mini wedge-quoins & keys; Wickersham-like Quoins imported from England.



These will be availble through the Excelsior Press

Fundraising

Page at posted prices.



---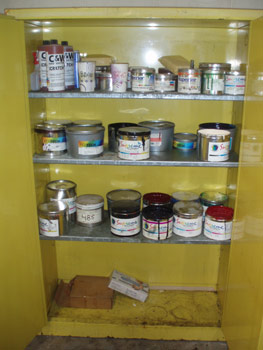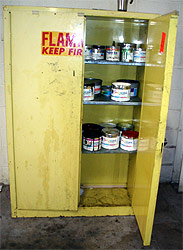 A Heavy-Duty - and very safe



Fire Proof Ink and Solvent Cabinet

.



... with plenty of fresh ink in more than 1/2 full 1 lb and 5 lb cans....



---