---
EXCELSIOR PRESS HOME | PRESSES AVAILABLE




8x12 Chandler & Price Press
with 30" Cutter
For Rescue on Long Island, NY
(available as of June 20, 2015)
$500 o.b.o
Must be TOTALLY DISASSEMBLED & moved immediately
.



---

C&P 8x12 needing rescue - Chandler & Price old-series 8x12

Ralph used this press in his basement until about 20 years ago. It's clean and in good shape - might need rollers, but otherwise everything works. They are selling their home and need to get it out of the basement before closing.- by July 10, 2015.

But the press is in the basement and will need to be fully disassembled and moved, piece by piece, up a flight of stairs into an interior room in the house.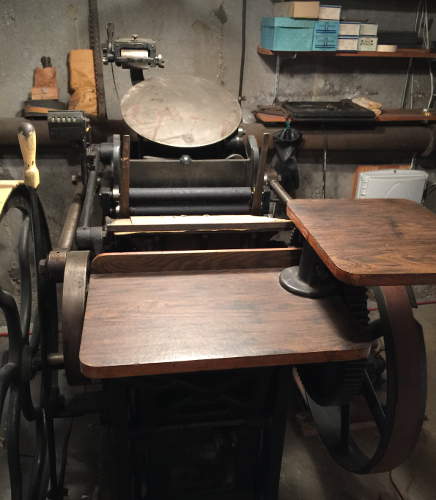 Press appears to be in excellent condition
Press is as-is in Belmore, NY. Everything works.

Press is located in owner's basement - must be FULLY disassembled to be moved up basement stairs into interior hallway.
Has not been used in 20 years - may require new rollers & tlc.

Includes Short Ink Fountain, Counter, Motor. Treadle could be added.

---
also available:
30" Oswego Paper Cutter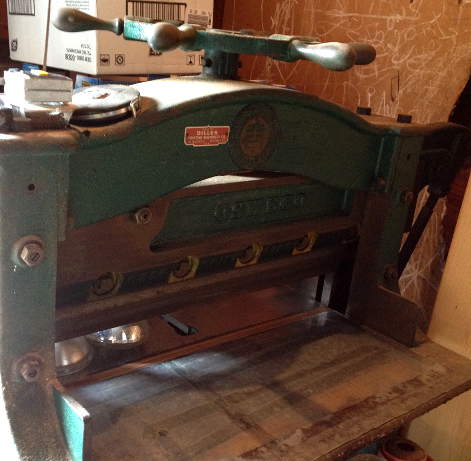 The Paper Cutter, however is in the garage and can be loaded onto your trailer quite easily
---
Pleasecontact us

to make Ralph an offer on his Press & Cutter

Disassembly, removal and moving services available for $750
(by an experienced letterpress shop mover)
plus $1.50 mile over 30 miles from Belmore, LI, NY..
---
---