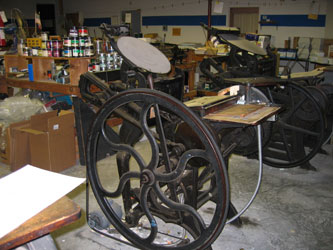 Complete Letterpress Shop
50 years in operation
Linotype, Hand Foundry Type, Presses, etc.
~~~~~~~~~~
For Sale in Northern Florida
~~~~~~~~~~
(available as of August 22, 2008)

---
Two working Linotypes, w/ mats & lead | Foundry Type | 4 Platen Presses | Proof Press | Saws, other machines
CLICK HIGHLIGHTED PHOTOS BELOW TO SEE MORE DETAIL


9/11/2008: Message from Rob:

My sincere thanks for putting me up on the internet; if there is any hope of this equipment remaining in production, this would be it.

Our shop is in North Florida about 30 miles south of Jacksonville. My father, grandfather, and great-grandfather were country weekly publishers in Florida from 1875 to 1948 and I first learned to be a letterpress printer in the 1960's. All this equipment has been in production (some still is) and has been in climate control since the '50's.

Per your request I am sending additional photos of the typecases, the MILES-NERVINE HEART CURE proof press (these were swapped with country weekly papers for a year of free advertising), and a gas-fired smelter used for pouring cuts from paper mats and for re-melting lino metal into pigs.


LINOTYPE Model 8
LINOTYPE Model 35
(split magazine, Hydraquadder)
More than 25 COMPLETE FONTS OF MATS including:


14 Park Ave.,
14 Bernhard Fashion,
18/24/30/36 Old English,
12/36 Futura,
10 Century,

Plus many others.
over 2,500 lbs. Linotype metal
---
FOUNDRY TYPE


including

6,8,10,12,14,18,24,36 Stymie
6,8,10,12,14,18,24 Garamond Lt.,
6-12 Bankers Gothic Med. And Light,
24 Outline,
8, 10,12,14,18,24, 36 Wedding Text,
12/18 Park Ave.,
12/18 Liberty,
10,12,14,18,24,30 Lydian,
12,14,18 Lydian Ital.,
18,24,36,48,60,72 Cheltenham Bold,
36,48,60,72,96 Cheltenham Bold Cond.,
12/18 Franklin Gothic Cond.,
14 Bankers Roman Shaded,
14, 18,24,36,48 Brush,




---

Plus many others.



WOOD TYPE: 1", 2", 2 ½"


LETTER PRESSES/PLATEN PRESSES, AUTOMATIC AND HAND FED

10 x15 Heidelberg Windmill (Red Ball)


8 x 12 C&P 10x15 & 14 ½ x 22 C&P.
10x15 has been sold


10 x 15 C&P Old Style
SOLD


Miles Nervine Proof Press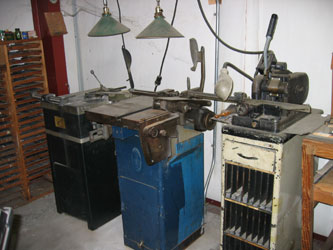 2 saws, Rouse vertical Miterer

assorted quoins, reglets, leads, brass,
typecases,
2 stones,
numbering machines, chases,
Miles Nervine Proof Press

---
This shop has been in production in a climate-controlled shop for the past fifty years. It includes everything needed to go into full production.

Call
Ron Robertson
(877) 660-2843
(phone # corrected 9/15)
or email: ronrobertson@bellsouth.net