---
EXCELSIOR PRESS HOME



Chandler & Price "Gravity" Galley Proof Press
~~~~~~~~~~
Chandler & Price circa 1880's
(available as of Oct 30, 2009)
Now part of the Permanent Collection at The Excelsior Press




---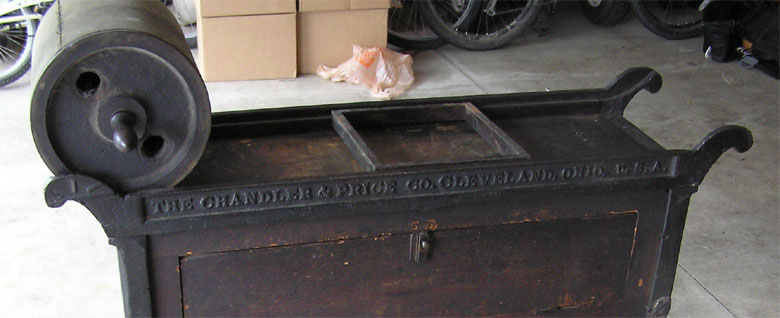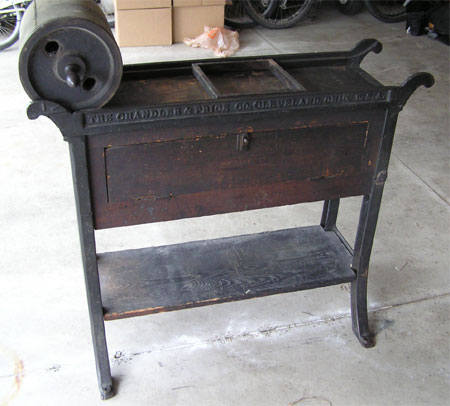 Martin had this classic Chandler & Price Galley Proof Press in Allentown, PA. It had come from his family's print shop, but now he was moving, and decided that it was time to sell it. The weight is about 200 pounds, so moving was easy.

At first, we'd plan to help him sell it, then bought it ourselves - with plans to sell it. But, with each inquiry, it became harder to part with, so it is now a part of the Permanent Collection of the Excelsior Press.

Now that the press is in our collection, it is not currently for sale. We love it but just lack the space to display it - until we build our new barn. We also have a Miles Nervine press just like it, but a bit smaller, and with another whole story of its own to tell.

Now gravity press printing becomes another feature of the Excelsior Press Museum.

These presses came with an empty impression cylinder with holes on the side. Sand could be poured into the inside of the impression cylinder, and kept in place with some well-hammered corks or wooden plugs. When it was time to move the press, the plugs could be removed, the 50 pounds or so of sand could be drained out, and the cylinder would be light enough to be carried by one man. The bed still weighs 200 pounds, but that could be handled by two men. In any case, these presses were among the most lightweight and easy to move of all the presses found in a 19th century - or early 20th century print shop or frontier newspaper.

Rich Polinski, at Front Room Press has one of these as well, but his has been beautifully restored to like new.

---
Below is an old advert that our friend Bill B. found and passed on to us.

Click on the image to see an enlarged version
and below is a page from the 1914 Chandler & Price Catalog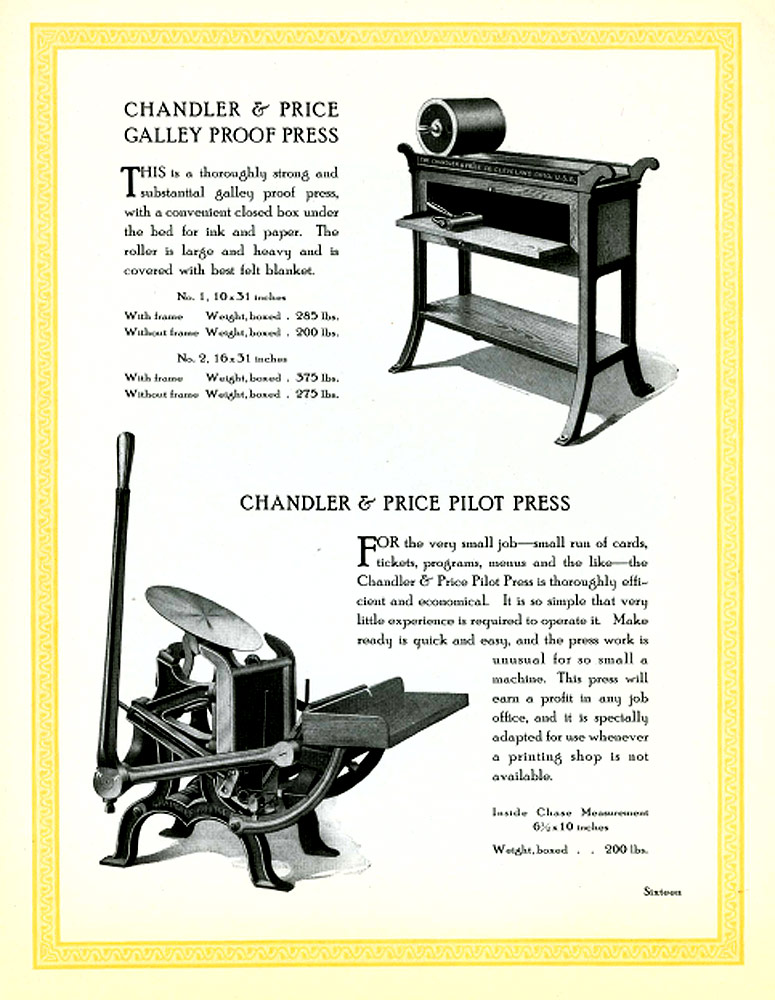 ---
---