---


HOME

Dottie Cronin's
6x10 Kelsey





Available

in Ramona, Calif. for $725 or best offer ~ posted August 1, 2010
SOLD - To Excelsior Press - to restore for the Fieldston School in NYC
This press matches the photo of the press used at Fieldston in 1930

---
Dottie's husband

had gotten this press many years ago with the intention of doing some hobby printing. Although he carried it along with them each time they moved over the years, he never got to use it.

And now he's gone, but the press is still around - waiting for its next home.

If you live anywhere in southern California, this is a press worth going after. We'd buy it ourselves to restore - and sell for $1,000 or more, but shipping it safely to New Jersey will cost a bit, so the best thing to do is to find it a new home near San Diego.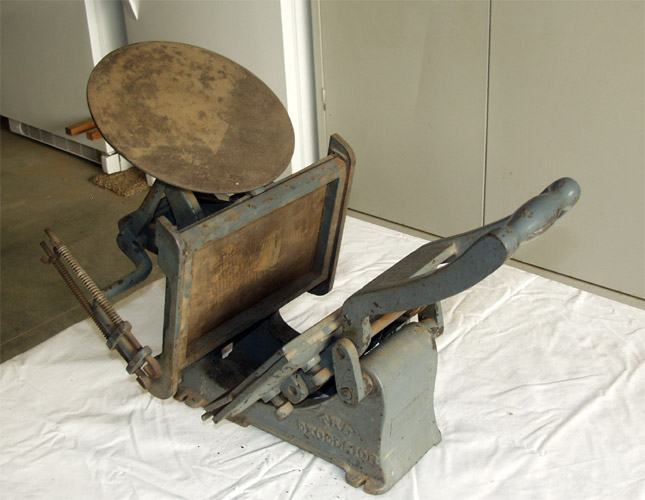 As you can see, this press will need some attention before putting it back to work, but nothing that a little bit of WD-40 or Prep-n-Etch and some coarse Scotch Brite pads and a generous helping of elbow greast can't take care of. Its a few hours' work, but if you are mechanically inclined, this is a great chance to get a useful press at a good price.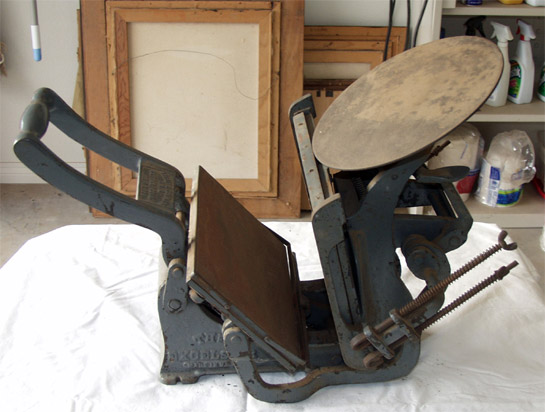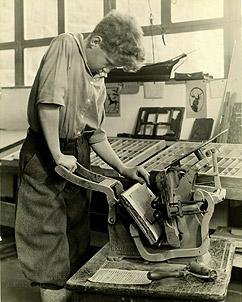 This classic scene of "A Boy and His Press" was photographed at the Fieldston Ethical Culture School in the Bronx, NY by Lewis Hine at some time around 1930 - as part of a series he did about children doing adult work (like printing) during the depression. The press above is destined to be restored to full operating condition and set up in the Fieldston School Graphic Arts Studio - with this photo, which will be framed and posted on the wall above it as a reminder of where it all began....

The press will need some rollers, too - and a set of square-bar grippers, a gripper spring (kinda hard to install) and of course, the standard starter kit, but we can help you with that. (Starter Kits)

Please contact us if you are interested or have any questions about this press. I'd say it's a keeper and will make the next owner very, very happy.

---