---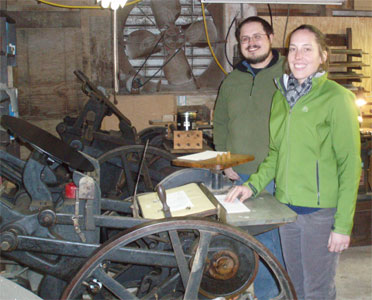 January 24, 2010

Andrea & Joe stopped by on a relatively chilly January afternoon to "see what this letterpress printing is all about"...

Well, it was a bit chilly to actually print anything, but I had the 10x15 C&P set up for a job I had recently printed, so we were able to at least learn a bit about hand-feeding the C&P - without actually printing anything. That comes later (see photos from their visit in April below.)


---

February 18, 2010

Jeremy Barlow came by with the beautifully restored 5x8 Victor he got from Louis. Now it was time to learn to learn how to use it....



Jeremy sets hand type

Jeremy locks up the form

Jeremy sets the gauge pins


The Garlic Press card - printed in hand type and Ludlow on Jeremy Barlow's 5x8 Kelsey Victor.

---
March 12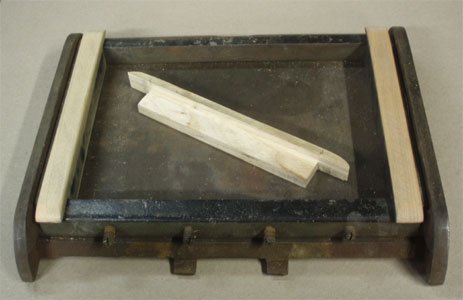 There was some discussion on Briar Press recently about inking problems on the 5x8 Kelsey. One suggestion made was to use a set of roller bearers. The question arose, "where can one get roller bearers these days?". Having used roller bearers on various jobs over the years, and having sets that had been made for my 8x12 & 10 x15 C&Ps many, many years ago, I figured that I could make up a set for this fellow's Kelsey Excelsior 5x8. Since the 5x8 chase is already quite small, I designed these with an undercut so that they would fit over the side walls of the chase, giving a full 36-point wide bearing surface while taking away only 18 points of space on either side of the chase.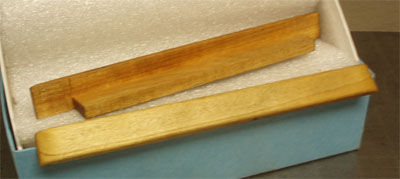 I used some old wood furniture, knowing that the wood was good and straight and well-seasoned - maybe 50-100 years' of 'seasoned'... and I cut them to close tolerance on my Hammond Glider Trim Saw. Note in the photo how they fit tightly over the walls of the chase.

Once they were cut to fit, they were treated with some of the Parafin Oil used to treat the wood furniture made by Thompson Cabinent Company. This will not only protect them from ink and solvents, but surely give the wood a fine patina as well...





March 26-27, 2010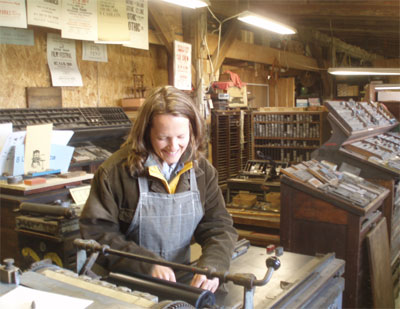 Barbara deWilde Sheldon is a book jacket designer at Random House in NYC. Her husband Scott knew that she loved the look and feel of letterpress printed items, but had never had the opportunity to actually print on a letterpress herself.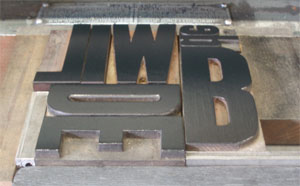 So, his anniversary gift to her this year was a few nights in a Bucks County, PA Bed & Breakfast, and two days' work in a dirty old print shop filled with hand type, wood type, engravings, and, of course, a variety of letterpresses to print on. She had a ball designing with wood type and printing some note cards on the Vandercook.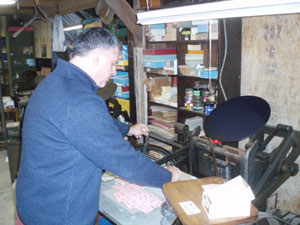 Meanwhile, Scott spent his time here learning how to to set hand type, add in some old cuts lock up the form, make ready the C&P and print some tickets for an upcoming theatre production - special tickets for some "swanky seats" given to patrons of the theatre group they work with.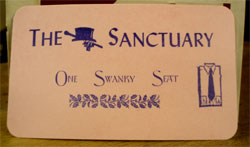 Here, Scott is printing the "Swanky Seat" tickets on the 1914 Chandler & Price 10x15 platen press.

...Two days designing with real wood type and printing in an old letterpress shop. Now, how's that for a creative anniversary gift for a graphic designer?

---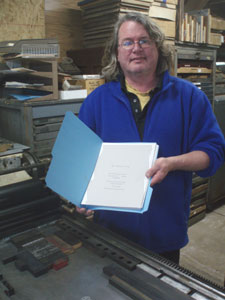 March 29, 2010

Richard White is a part time attorney, full time photographer & poet who wanted to revive his knowledge of letterpress from his old school days and hand-set and print some of his own poetry to be framed along with selected photographs from his portfolio.

He came by the shop, hand-set one of his poems and printed a few copies. After he found that he did indeed still have ink in his veins, he contacted Bill Reiss of Quaker City Type and bought a few fonts of his own which he now hand-sets at home and brings finished forms to the Excelsior Press to print on our Vandercook.

---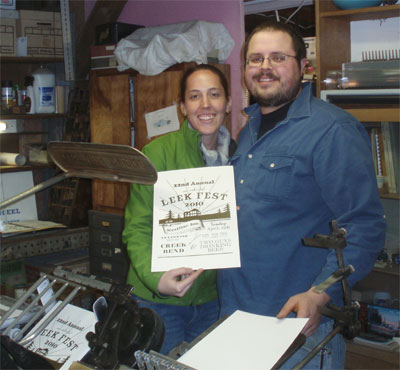 April 10, 2010

Andrea & Joe came back again - this time to learn how to print on the Heidelberg Windmill they had recently acquired - since their last visit in January.

Andrea designed this two-color poster for the annual "Leek Fest" held in her home town in Nortwestern PA, and they printed the brown form on the Windmil on day one and the yellow-green form on the Vandercook on day two.

I call them the "bumble bees" because it is said that it's scientifically impossible for bumble bees to fly, but they don't know that, so they do.

Joe did not know that it was impossible to fully disassemble a Heidelberg Windmill and extract it from a basement through a pair of Belco doors, then get all the parts back to his garage and reassemble it and make it run again. As a result, he successfully did what most printers would consider impossible. Next, he tackled a rocking platen problem on their 8x12 C&P and apparently has gotten that fixed as well. An amazing couple, and lots of fun to work with...

And now, Andrea & Joe are printing under the name of the .... hmmm... something Owl press. I'll find out and update this link...

update: 9/4 - It's the

Laughing Owl Press

- and here's their page about us! (well, about printing these posters, actually..)


---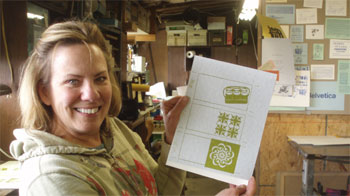 April 22, 2010

Another Anniversary present - a day at the print shop for Lenor as a gift from her husband. Lenor designs greeting cards and wanted to print some by letterpress.

She arrived with photopolymer plates of some of her designs, mixed up some custom ink and printed some cards on the Vandercook - and then printed one set on the C&P and finished up by scoring them for a perfect fold on the old Gordon treadle press before the day was over and it was time to go home.



Update, 2012 - Lenor included some flattering references to her time at the Excelsior Press in

this blog post at Boxcar Press

---
April 24, 2010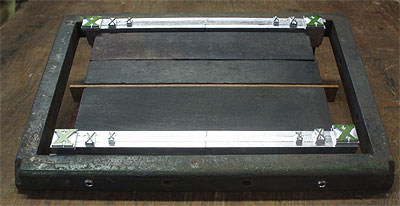 A number of folks have reported problems adjusting their platens on their small presses. While one solution is to use a Vandercook 'lollipop' to adjust both rollers and platens, and others suggest locking up some large letters in the corners of the chase, not everyone has a lollipop or the large letters to to do this with. So we've come up with this set of Ludlow slugs which can be locked up in the four corners of the chase. Just tighten the impression screws until all four corners give the same impression when the press is closed.

(Soon to be available on the fund-raising page)


---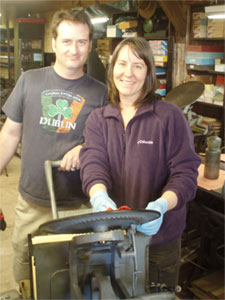 April 30, 2010



Dawn teaches art, print-making and now, letterpress printing at a college in Maryland. She had some issues with the ink table, rollers and roller trucks for her 9x13 Kelsey Excelsior, so she and her husband Terry brought the press up to the shop for some adjustments and general tlc. Before she brought her press to the shop, I'd had a new set of roller trucks machined for her and installed them when she arrived. Finally, her rollers rolled as they should and the press inked and printed as she'd hoped it would.

By the end of their visit, her monsterous and rare 9x13 Kelsey Excelsior was in tip-top shape and ready to be used in the summer class she would be teaching.



---
May 2, 2010

Wanda Liu had recently acquired a nicely restored C&P Pilot from Steve at LetterPreservation in Rising Sun, Indiana. Now, she wanted to learn how to use it with our new Excelsior Chase-Base for printing with photo-polymer plates.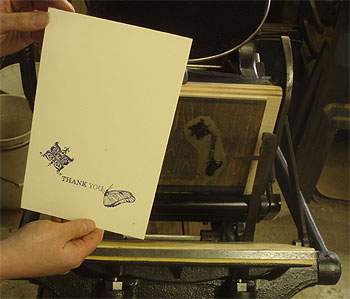 First, we checked her platen for level using the platen leveling Ludlow Slug kit described above, then she mixed up her own custom ink color for the job - she would be printing some greeting cards she designed. With the ink color mixed just right, she mounted her photo-polymer plate on the Pilot Press Excelsior Chase-Base, inserted it into the press and began printing.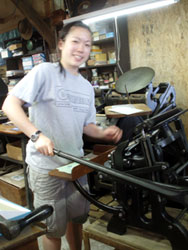 Super Success with the Chase-Base. Using Megill Flexible Gauge Pins - which cannot be crushed by any plate base, Wanda was able to easily line up the image on the card and adjust the image position.

But Wanda is left-handed, so we moved the impression lever from the left to the right side of the press to make feeding easier for her. With this feature incorporated into the basic design of the Pilot, this was easily accomplished and now her press is 'customized' for her own use. After she printed her cards, we set up the Pilot for scoring and she scored her cards for a perfect fold.


---
note: the following will be expanded and illustrated with photos asap...

---
May 4



Amanda began setting type for her wedding invitations. It was quite a project. Great photos to come.



May 15



We help Lynda move her 10x15 C&P from Jimmy's shop at the Garfield Messenger



May 18



Sachkia Barnes visits from the British Virgin Islands to learn how to operate the 10x15 C&P. She is rapidly outgrowing her Adanas and wants us to ship one of our recently restored to operation 10x15 C&P's to her in BVI..



May 25



Nicholas and Megan are back again, visiting from Savannah, where he teaches print-making - including letterpress at the University. He calls his old Gordon press "Brass Arms"... Since this pre-1900 platen press does indeed have brass side arms. During this visit, they learned to set Ludlow Matrices and cast slugs on the hot-metal Ludlow line caster.

June 6

Katie's back to pick up her repaired 6x10 Kelsey Excelsior and learn how to print with it. She made a nice set of note cards for her son. See the video...


---
June 8 - Irwin & Clara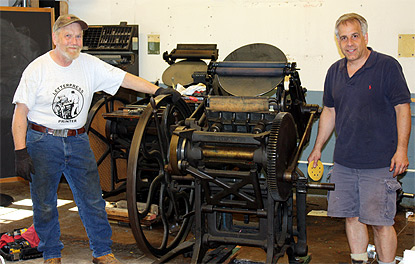 A very long day at the Fieldston Press. Burt & I headed out early in the morning for the long drive to the upper Bronx in New York City.

Our task for the day was to partially diassemble & move these two presses - "Irwin", the 10x15 New Series on the left, and "Clara", the 10x15 Early Series on the right.

We swapped cranks between the two presses so that the old straight-shafted Clara could be fitted with a new treadle cast by Hern Ironworks in Idaho.

But we found that although the parts would swap out okay, it would mean swapping the distinctive flywheels as well, since the the diameter of the two cranks differed by a few thousanths, so we took the cranks and flywheels back to the shop to be reamed out and fitted properly.

We have a full series of photos from this day and may document the job on the web site here - once we find or make the time to do it. (but not tonight....)



---



June 10



Took a 2-hour drive up to Scranton, PA to pick up what at first appeared to be a "basket case" 7x11 Pearl. By 3 am, it was reassembled and ready for some serious cleanup, new rollers and soon, some printing.


---
Sunday June 13, 2010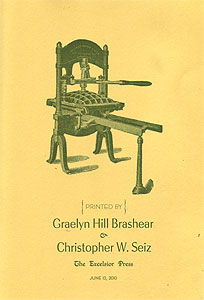 Today we had a visit from Christopher Seiz & Graelyn Brashear. They plan to be married next spring and would like to print their own wedding invitations. Chris runs a nonprofit on Long Beach Island, NJ where they do a lot of silk screen printing - posters, t-shirts, etc. Grae works at the Asbury Park Press where Linotypes and letterpress are a thing of the past.

To begin their wedding invitation project, they came by for an afternoon's workshop, learned to set hand type, cast lines on the Ludlow and printed the result on the Vandercook.

The keepsake to the right is the result of their day's work - their first letterpress project, which was composed of an antique engraving of an old hand-press, a few lines of hand-set foundry type and a few lines cast on our Ludlow line caster.

They left quite enthused and promised to be back for more....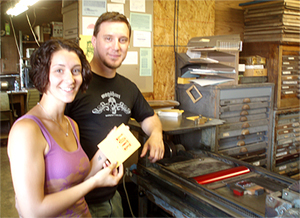 Monday, July 5, 2010

Joseph Rose and Rosina came up from Princeton on Monday to drop off a 5x8 Kelsey he recently acquired - in need of some minor restoration work - and to learn a bit about printing on it and the Vandercook.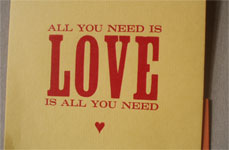 He has his own type, so he set a few lines and brought it with him. They printed some clever and appealing cards with the following text:
"

All you need is

" in 12 point Roman caps
"

L O V E

" in 6 line wood type
"

is all you need

" in the same 12 pt Roman caps
in red ink on ivory cover.

They had a good time, learned a lot, left the press to be restored and will be back to learn to print on the Kelsey 5x8 next - using both hand type and one of our new Excelsior Chase-Bases for photo-polymer plates.


---
Tuesday, July 6




Aubrey's Press Broke!

The Craftsmen Pilot that Aubrey's been using since last fall finally met it's match - too deep an impression on very heavy stock. It was just too much pressure for the upper shaft on the platen rocker. We helped out and finished the job for her the next day on our Vandercook Model 4 - plate & paper received, printed and shipped back to NYC on the same day - and then she brought the press out to the shop for repair on the weekend.

I contacted all of my old letterpress friends and after a few weeks' search, we found that Paul Aken had a spare Craftsmen "rocker" in his collection in Chicago. It's coming from a press that broke almost the same way - but his broke on the back, not the front, so his part will solve our problem. The part's on its way and hopefully by August 9, it will arrive and within a few more days, her press will be ready to go back to work again.

---



Saturday, July 17, 2010





John & Scott McCaughey

drove all the way up from Virginia this weekend to pick up some tips on running John's recently-acquired 10x15 Heidelberg Windmill. Although John's grandfather had published a hot-metal, letterpress-printed newspaper for many years in Glouster, New Jersey, and he currently works for a large printing company, this is his first foray into letterpress printing with his own press, running his own operation.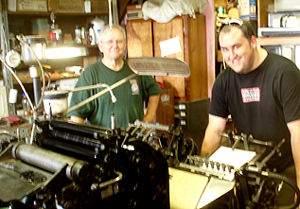 Luckily, John has access to a local photopolymer plate maker who could make him some nice metal-backed plates - with type as small as 2 point - We mounted the plate onto his Bunting Magnetic Base, locked up in the chase with some wood type, the Ludlow slugs we cast for them, and some old sign-press plastic-cast 'wood type' John brought with him. All of these various image forms were locked up together in the one chase and printed together on one sheet without issue. It was a good lesson, though. We looked closely at how each type of plate or type took ink and printed and had a good discussion about plates & type.

They appeared to have had a good time touring the shop and seeing all the different presses we have in the collection here and there around the shop, watched as I cast a few slugs with their names in 30 point Clarendon Heavy on the Ludlow, then moved on learning the oiling and maintenance and wash-up procedures on the Windmill. Once the basics were covered, we got into setting up the feed for various stocks and then the rythmn of the feed and impression timing of this press, discussed basic issues about inks and scoring, die-cutting and embossing and then printed some test sheets from his own form - brought all the way up here in his own Windmill Chase.

We were unable to get a clear image of the 2 point Helvetica - it was barely readable even with the big loupe, but we could read the three point easily.

(with the loupe, that is - these eyes ain't what they once were... )

But their test piece printed well over all - and, this was quickly printed in a very much mixed form. I'd say that with some care paid to the paper and ink and makeready, that two point type could be made to read quite well.

They want to come back and try out the various hand-fed platen presses - to get some experience printing on the Pearl & C&P. They're looking for a 7x11 Pearl or equivalent, so if you know of one that's available, let us know and we'll pass on the info.


---
July 23, 2010

We finally have our

Kelsey STAR PRESS!!

When I was a boy - during the 1960's, I used to study my Kelsey catalogs like a mid-western farm family would read the Sears Roebuck catalog, dreaming of things that they might someday see in person and actually use. Two years ago, a 7x11 Kelsey Star appeared on eBay and no one seemed to notice! I placed a bid and was lucky enough to win the auction. But I was in NJ and the press was in Michigan - but only an hour from where my brother Ted lives...

Needless to say, I called upon my 'big brother' to help me out. Although he'd always thought I was nuts to collect old printing presses, in his retirement, he's begun to appreciate what I'm doing in this old barn and agreed to retrieve the press and keep it safe in his garage until I could get out there to pick it up.



Well, over two years passed and I have not visited him in Michigan yet, so when Ted & Rose decided to make a trip to NJ, they brought me the press! - In the back of Rose's SUV!

The press is in pretty fine shape - although I can see where the main rocker had been clumsily brazed some time in the distant past, and it's missing the chase latch, needs some serious cleaning and a set of rollers. The chase latch on this press is unique in that it slides from right to left to clamp the chase in place. Most presses have a latch which clamps down from the top. But Paul Aken of Chicago has one of these presses and was able to send me a photo of the clamp we will have to find - or make... Oh - the press is also missing the treadle, but we can make one of those for it easily enough (I hope)...



UPDATE: August 15

- Ted found the missing clamp in the back of his SUV after he returned to Michigan. Lucky for me, because the chase clamp on

my

Star Press is not the same as the one on Paul's. I guess that means it's time to exchange photos and compare other parts and features...

---
July 31

, 2010


Well, it's

Frenchtown Town Picnic Poster

time again! The local Police Department began planning and hosting this annual "National Night Out" Picnic for the community a few years ago. And, every year, we print 12x18" heavy-duty posters to promote the event in the local community. I was very proud to see our posters all over town this week - and to get the regular requests that I save a few for some of our local collectors...

This poster project began about ten years ago, when, seeing an old letterpress poster on the wall in Don Schaible's Barber Shop, I commented that "I can print posters like that!" Whereupon Don quickly asked if I could make such posters for the Lions Club in town. I agreed and have been printing letterpress posters for the community on my old Vandercook ever since...

---
August 6
We are honored to be working on a project with book artist

Maria Pisano

. The project includes setting 4 stanzas of a poem in 12 point ATF Goudy and printing a mere 25 copies. This page will undoubtedly find its way into a number of fine art galleries, libraries and school and musem collections - and we are particularly proud to note that she composed the colophon to include these lines:

"Hand-set in ATF Goudy by Alan Runfeldt. Printed on the Vandercook at Excelsior Press, Frenchtown, NJ."



And, uh... we did run a bit short on the 12 pt. ATF Goudy, but Fritz Klinke came through for us and overnighted a lower case font that was cast a few years ago by Theo Rehak on one of his old ATF Barth casters at the Dale Guild Type Foundry.

---
August 8, 2010 -


Had another chat with Gene Mosher - the last owner of the Kelsey Company. Gene joined Kelsey in 1960 and was there til the end. Now that letterpress has resurged in popularity, he somewhat feels as though they missed the revivial, but at the time they closed the doors, there simply was not enough interest - and income - to keep the company alive.

I've decided to transcribe my notes from these conversations and start a new web page about them. I found out yesterday, for example, that the Printer's Guide was available in Spanish - and that he will be sending me a copy. I also learned that some of their advertising and design work on the 9 x13 Excelsior was done by the famous artist and industrial designer Norman Bel Geddes.

More about all that after we speak again next Thursday...




---
August 10, 2010 -
An interesting article - including a new Video I just discovered - about letterpress poster printing by Amos Kennedy in Gordo, Alabama - another inspiration for all of us...
---
August 18


Aubrey's press (see July 6) is ready to go back to work. We replaced the broken rocker with one that our fried Paul Aken had on a similar - and also broken press in his collection. The swap went without a hitch. Now we can confirm that the parts from these two models of the Craftsmen Superior 6 1/2x10 (Pilot) - one aluminum, one cast iron - are fully interchangeable - (well, at least the front rockers are the same) in case anyone needs to know....


---
August 26 -

A really nice blog post by Miranda about her visit to The Excelsior Press

---
Sunday, August 29, 2010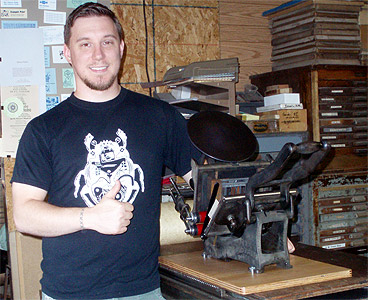 Joseph Rose (see July 5 entry above) came by to pick up his newly-restored 5x8 Kelsey - complete with the new heavy-duty 1/8" thick grippers, new Pawtucket rubber ink rollers and solid finished base we are now making for this press. He also took a new and quite popular Excelsior Chase-Base (for mounting photo-polymer plates) that we developed specifically for these little presses, a starter font of recycled wood furniture in our new "Excelsior Super, Super, Super Economy" furniture rack, some uncrushable flexible gauge pins, platen extender Megill Extension Feed Guides and a bunch of other supplies to get him started. Now it's time to see some samples of his work.



Worth noting is that fact that we used the same form as he printed on the Vandercook in July while setting up and adjusting his press. Click the image to see a larger version with more detail.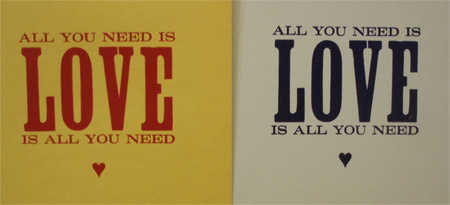 This photo shows that it is very hard to tell the difference between the impression of the image printed on the mighty and "must-have" Vandercook and the same form printed on the modest little 5x8 Kelsey. It was just a matter of proper platen and ink roller adjustment. Of course, we must admit that we did double-ink the form to lay enough ink to print the wood type as solid as it is, but in any case, this little press can do a fine job when properly equipped and adjusted.




---
Monday, August 30, 2010


Irv Shapell came by today with the 6x10 Kelsey Excelsior he had wisely purchased many years ago - while the Kelsey Company was still making presses. However, his various careers over the past 20-30 years prevented him from taking the time to set up shop and begin printing - as he had learned to wayyy back in high school.

Well, now it was time to dig out the press and pursue this delayed interest. And he has just the press to do it with. I complimented him on his wisdom - buying a 6x10 Excelsor when the price was pretty much fixed at just over $500. The same press tody - in new or restored condition - can sell for $1250-1700... Yes. It was a good investment.


---
Tuesday, August 31, 2010




Gene Mosher

's latest package arrived today - his collection of some very old composing sticks which we will be listing and selling for him on our new Kelsey Company & Memorabilia page.

Gene Mosher managed, then owned the Kelsey Company for many years and was the last owner, along with his sons. Now, Mr. Mosher is 86 years old and has decided that this Excelsior Press Museum is an appropriate long-term home - and a good sales location - for some very interesting Kelsey Company items and Memorabilia.
But, along with the collection of very old composing sticks was a

very interesting

article written in 1945 by Glover Snow, then president of Kelsey Co. This article details some interesting history of the Kelsey Printer's Guide and other interesting tidbits unpublished until now (or, as soon as I transcribe his notes and get those pages going).

This package, btw, was the third of three he sent recently. The other two contained the complete official archive of not only the Kelsey Printer's Guides (dozens of issues going back to before 1900) as well as the Spanish edition of

The Printer's Guide

, and copies of the

Kelsey Bookbinder's Gude

and

Kelsey Silk Screen Printer's Guide

- AND the

Complete Archive

of all of the

Printer's Helpers

newsletters published since 1929... - all of which we will be reproducing and making available to the community as a fund raising project in the near future

Another tidbit in the package was a packet of 3x5 file cards filled with hand-written notes - some going back nearly 100 years. These file cards contain the dimensions of rollers & trucks for most popular presses that Kelsey supported during their reign. This will help us to manufacture accurate reproductions and answer such questions authoritatively in the future.

See the new Kelsey Company Page


---
Wednesday, September 1, 2010


We are collecting

more equipment

(oh, but where to put it!!!???) - a friend has decided that all the galleys of fonts of type and the disassembled presses in his basement would be better off here, so we made a deal and I went over & filled the back of my wagon with what must have been over 500 pounds of lead type - and that was less than half of it!. Next, we'll collect the Early Series C&P Pilot and complete the restoration he began - with new platen bolts, brand new machine grippers and all! And, as part of the deal, he is including the special-thread tap needed for these old-style platen bolt holes. We'll also be restoring and reassembling the Vandercook Model 0 Proof Press - just in case anyone is interested.

We can't afford to keep either of these presses - we already have too many Vandercooks and our own Pilot, so these presses

will

may be available on our Fundraising page soon.



(update Tue 9/7

- correction, these presses may

not be available

on our Fundraising page. They are already spoken for - and I haven't even put them back together yet!)

And, although I hate to part with any type - ever, his collection includes many fonts which duplicate our own library - and they are all organized in galleys with i.d. labels and all, so we finally have some good used type available soon as well..

ref: Vandercook Model 1 Single Truss Proofing Press - http://vandercookpress.info/images/1_35.jpg


(note: ours has an open frame bed. We'll post photos when it's ready to show off)


ref: Chandler & Price Early Series 6 1/2x10 Pilot: Our Pilot Press Pages


---
Thursday, September 2, 2010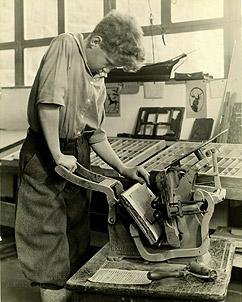 Lewis Hine Photograph of Student with Kelsey Letterpress circa 1930



Carl Smith called again today - excited to hear that we had found a 5x8 Model N to restore for The Fieldston School in NYC, where he is manager of the Fieldston Press - a student print shop (now "Graphic Arts Studio") established in the late 1920's.

Sometime around 1930, famous photographer Lewis Hine photographed one of the students using a 5x8 Kelsey as part of a nationally acclaimed series he did of depression-era students doing adult's work - like printing.

Although we can't identify the student (yet), we think we can identify the press. This press appears to be a Kelsey Excelsior 5x8" Model "N". After searching in vain for a Model "N" to show up on eBay, I was surprised to discover that "one of those 5x8's" on the back shelf out behind the Linotype in our cluttered old print shop is, indeed a Model "N". Duh. Talking about having too many presses to count!

Anyway, now that we found the correct model, we will be doing a complete restoration of this press so that it can be displayed - as a working press - in the Fieldston Ethical Culture School Graphic Arts studio - to be used as it was 80 years ago. Students will once again print on a Kelsey Press - just like this young lad did so long ago.



Update Sept 8 -

on closer inspection, and considering the size of the press, the boy and the type cases in the background, we're leaning towards declaring this press to be a 6x10 instead of the 5x8 we first thought it was.
What do you think? CONTACT ALAN RUNFELDT with your thoughts.
---
Friday, Sept 3


More coaching and advice

from

Pete Wilson

, formerly of the

Kelsey Company

. - about making roller hooks & grippers.

For a few years after college, Pete Wilson - grand-newphew of former Kelsey president & owner Glover Snow - was the guy in the plant who was in charge of manufacturing the Kelsey presses we all know so well - or are learning about in many cases. Pete visited here last year and has been helping me learn more about how these presses were built at the factory - and how I can make fully-compatible quality replacement parts for them. See the new

Kelsey Company Page
This week's issue was the manufacture of the roller hooks and gripper arms. We've been making our own for a while but it's been a pretty much hit and miss (or hit, bend, hit again) effort. Well, now we know just the machine that Kelsey used to bend these hooks and grippers to precisely. Unfortunately, the machine that Pete showed us cost quite a bit more than our limited budget - supported by a small percentage of an already small niche market - could justify. It would take a LOT of hooks and grippers to pay for the perfect machine. So, instead of comitting more money than we have for a machine that may never pay for itself, Joe Lanich & I are continuing on our quest to make our own pefect bender. I've already got protype one and am using it to great success, but the next version should be even better.

Joe's a machinist/engineer/printer/maker of excellent photo-polymer plates and generall all-around mechanical genius. We'll be swapping some letterpress stuff I have and he needs in exchange for the bender he's making for us based upon the information passed on by Pete.

These new roller hooks and grippers will be available and in stock for quick shipment very, very soon.

Meanwhile, Louis, of Excelsior Company, in Pawtucket, R.I., the ace restorer of all table top platen presses, has perfected his new string-wound roller casting technique for the rubber rollers we are making. We will be increasing inventory shortly to offer faster service on 1 1/4" & 1 1/2" rollers for all small platen presses.

---

Saturday, Sept 4
Something new for our photo-polymer plate users. I stopped by to see Joe & Andrea at The Laughing Owl Press in Flemington, Hunterdon County, NJ. Joe showed me the new photo polymer platemaker he has built - and I was properly impressed. No need to spend thousands on some fancy-name device. His platemaker did a great job. What I picked up from Joe was a sheet of photo-polymer copies of our famous "X X x" Ludlow slug "Platen Leveling Kit" Now our photopolymer plate & Excelsior Chase-Base users can level their platen using the same image/form that has proven so successful for those locking up hot metal type forms. We'll be adding that to our Fundraising Page soon.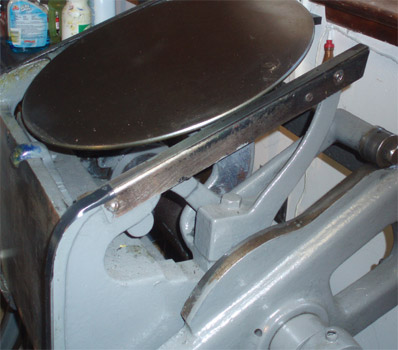 I also found something interesting about their 1925 8x12 C&P - Roller Tracks! like on the larger Craftsman press. I'd never seen them on an 8x12 before. This is something worth noting!

They appear to be factory-made - at least the back mount is integral to the press design. And, the ink table is also a sharper angle - less slope than on our 8x12s.

Joe checked the serial number and found that this was the first press made in that year. I wonder how many more were made like this? This is a somewhat different 8x12 C&P. An interesting and uncommon machine. I wonder what the story is?


---



Saturday, Sept 18


Abbey & John came by today to "learn a little bit about the letterpress process". They are graphic designers who have been designing letterpress pieces, but have had them printed by others. They wanted to learn just what was involved in the process, so they came to spend an afternoon at the print shop and get some hands-on experience.

Which they did.

We discussed the various presses used for letterpress printing, the variety of forms we print with and the issues involved with attempting to print with a deep impression on a small press. Then, as an introduction the Vandercook, they each printed a few copies of the poster form that was in the bed - the new Excelsior Press Letterpress Poster - a work in progress at the moment, complete with a typo - which they said made the print even more unique, since they know that the final design with be different. (OK. Proofs off of a Vandercook are

Art Prints

these days, I suppose...)

For their hands-on project, they selected and set some wood type & border, made up the form in the Vandercook, reset the top line in letterspaced caps, and printed themselves some house signs - with their family name and street address in deep red on some nice gray linen cover. But we've already discussed their next project(s). They have some ideas about some two-color pieces, scored for folding and with that deep impression that the Vandercook produces so well....


---
Monday, Sept 20, 2010

Now, here's some news that is

not

about the Excelsior Press, but should be very, very exciting for all

real

letterpress printers - those who set hand type according to traditional practice, that is.... Through the efforts of Dan Morris of The Arm in Brooklyn - and some group of cohorts - some "Young Guns of Letterpress", Real, Quality

ATF-style,

Barth-cast FOUNDRY TYPE is coming back - hopefully to stay.




Visit http://thedaleguild.com/news/ for more information.

BTW - Dale Guild Type "ain't cheap", but

you cannot buy any better quality type anywhere in the world today.




---
October, 2010

- Busy month; lots to post; too little time right now. Come back for more

October 12 -
The Bower Museum, in Costa Mesa, California, needed a simple proofing press for one of their upcoming displays -

Ben Franklin, American Printer

- see the prototype of the Composing Stick Proof Press we developed specifically for their use - but which we think may be of interest to other small press printers.... The Bower Student Press

October 14 -
Found a great short story worth reading about printing with Kelsey presses by Gary Johanson. - Check it out http://gjohanson.blogspot.com/2009/09/what-oh-what-can-kelsey-do.html - or see more about Kelsey on our page at Kelsey.html

---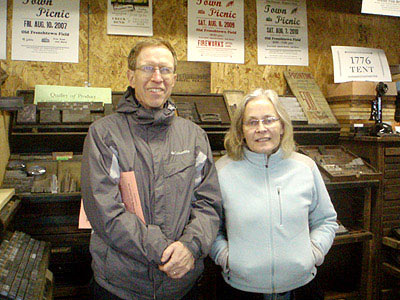 November 9 -

Charles & Livonia Heckscher visit the Excelsior Press
Joe's father had been doing letterpress printing for years, and Joe has worked with him in his studio when he was a youngster, so he was familiar with the skills of the craft. But, with his father's passing, the presses and type were passed on to Joe, who spends his days being a college professor in Princeton, but has now incorporated letterpress printing into his life as well.




---
November

27 - What a month! hmmm. somewhat like last month - too busy doing stuff to post it. Seems like every day has brought a special rush and there's never enough time to get everthing done. Maybe I should learn from this and find a way to avoid being too busy to get things done....

But first - a neat link I'd like to share with you about the Print Shop in Colonial Williamsburg It's an interview with Master Colonial Printer

Willie Parker

. These guys run an authentic printing office as was common in Ben Franklin's time. It's worth a read.

It's sort of like what I try to do for the

1930-1940 era

in my own shop. The only thing in the shop (except me) that was made since 1930 is the Vandercook Model 4, and although mine was made in 1946 (and I actually have the original invoice) the Model 4 was first sold in 1935, so it fits the era nicely. My old Ludlow, in fact, was made in 1929, and the old Gordon Press goes back to the 1870's... And now, we also have an original Vandercook Model One in there as well, which , despite it's name, appears to have been sold from 1935-1946 or so.

I also have to report on

Fiona Otway

's visit to the shop - with her assistant Ginger - and the two days spent being filmed, videotaped and interviewed to become part of "

Kiss the Paper

" - the new short Fiona is doing on letterpress printing. More about that when there's news to report - or clips we can see...

For more on this project, see her page at http://fionaotway.com/projects.html - and scroll down to "Kiss The Paper".

And I received a charming piece in the mail recently - an essay on "

The Type Rubber

" - printed by our visitor

Charles Hecksher

when he was a student. Charles is back to printing again and we have a nice sample of his public announement which we will add to the site as soon as we can. "Type Rubbers" were (mostly) women who quite literally, rubbed the type - as it was cast - to remove sharp edges, casting flash, or other imperfections. Remember, until Mergenthaler perfected his Linotype around 1900, the world relied on copious amounts of hand-set type being cast at foundries all over the world every single day. It's a nice piece, which we'll photograph or scan to add to this site.


---
December 1, 2010



My friend Jim sent me this really neat photo - of an old wooden horizontal platen press in Roumania.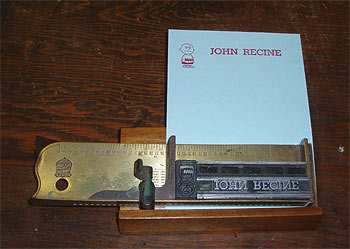 December 12, 2010

Not only was December 12th my 61st birthday (now I

really

am an "old printer"), but

Amy Osview

came by the shop as well - with her beautiful 4x6 Victor press - same as the one we have here in our collection. The 4x6 Victor, btw, was copied by Craftsmen Machinery and sold as their "C1 Victory Model Printing Press" Amy learned how to set type, adjust the impression and roller height on her old Victor, and printed some note cards for her friend John.

We had an old photoengraving of Charlie Brown - something I had had made when I was boy - back in the 1960's or 70's, but Charlie Brown is timeless and this little photoengraving fit right in with her theme.

We hope that John likes his original "Charlie Brown" note cards...



---
December 19, 2010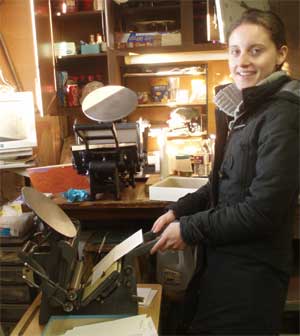 Amanda is back. This time to print Christmas Gifts on her little 5x8 Kelsey Excelsior - and to take it home with her to do more printing in a warmer environment...

Amanda and Jeff were married this summer and printed their own wedding invitations on the Vanderook. (in May) Then she came back with her family to visit the shop and print coasters for the wedding. It was great fun, and her family got to see what she had been up to in this old barn filled with printing presses.

But visiting the Excelsior Press means an hour drive each way from Philadelphia, and the bug had bitten them both, so one afternoon, Jeff drove all the way up to upstate New York to pick up a few Kelsey presses, a bunch of type and, surprise of surprises, an old Challenge Model 1528 KA. Now we have to find rollers for her...

And, one of the Kelseys was an old 6x10 with a unique roller mounting system which we intend to reassemble, study and perhaps even duplicate for mounting on other "spring/hook" roller mounts for both the 5x8 & 6x10. Watch the blog for updates on this new project...

---
December 20

-

I just had a call back from Joe, the Technical Support contact from Owosso Graphic Arts. He concurred that our Excelsior Chase-Base could be used just as well for mounting OGA's unmounted photoengravings - and at a cost to the user that is no more than that of the photo-polymer plates being made by Boxcar Press. No we can properly recommend that Excelsior Chase-Base users can use their bases for mounting adhesive-backed metal engravings from Owosso Graphic Arts as well as adhesive-backed Photo-polymer plates from Boxcar Press.


---
December 20 -


And, I just got this wonderful email message from

Margaret Rutledge

of the

Bower's Museum

in Santa Ana, California...
about our Bowers Student Press referred to in Oct

Margaret Rutledge wrote:

Saturday morning was opening day for Ben Franklin and we ran the press. I didn't get any pictures because I was too darn busy, but I'll get some Tuesday when I go in again. Many people were eager to set their name in type, and since the traffic was steady and not a mob, I let them all. The press worked perfectly, and thank you, thank you, thank you for all the spaces. I really needed them.

I'll send you pictures as soon as I get some.

- Margaret

I'll post the photos and make up a new web page as soon as they arrive.

---


And, with that entry, it's time for me to shut down the computer and head over to the cold barn print shop to fire up the Windmill and print another 10,000 Roasted Peppers labels for Annette... They have "product that's ready to ship", but need more labels - asap. Ah, The bane of print shops everywhere... rush jobs and deadlines....