---
Looking for fine table top letter press?
You have come to the right place.
We believe that during the past few years, we have restored and sold more table top platen presses than any one else involved in the letterpress community..

The photos below are a representative sample of our work
---
Photo Gallery of
Lou's Rhode Island

Restored Table Top Printing Presses

---
currently available: March 12, 2015
5x8 Kelsey Excelsior
$1250

Fully restored, new rollers. fob Pawtucket, RI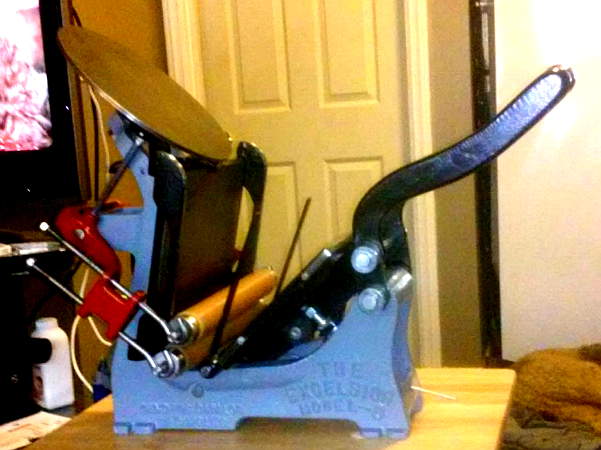 ---
Completely restored to better than factory new.
See our Kelsey Parts & Repair Page
Customer Comments
Quick Links to
press models



~~~~~~~~ All presses listed below have been Sold ~~~~~~~~

View list of currently available restorations & customer comments
Contact Excelsior Press
or
contact Lou directly
to check for current availability & pricing
---

Fully Restored
5x8 Kelsey Victor
Side Lever Presses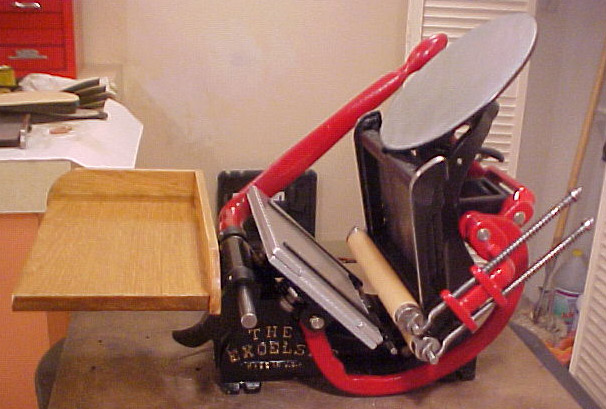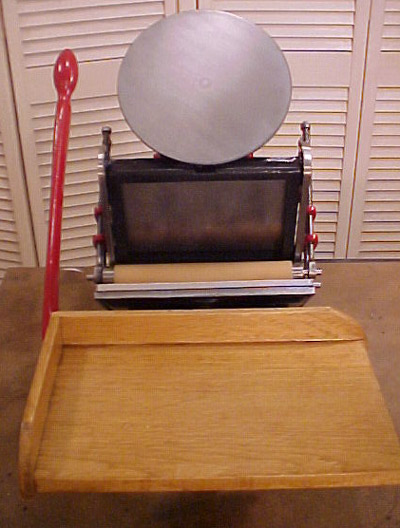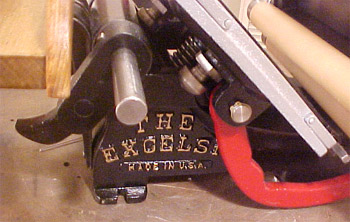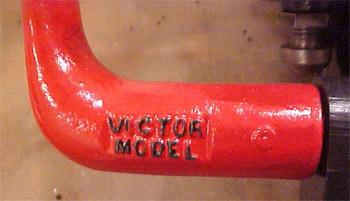 ---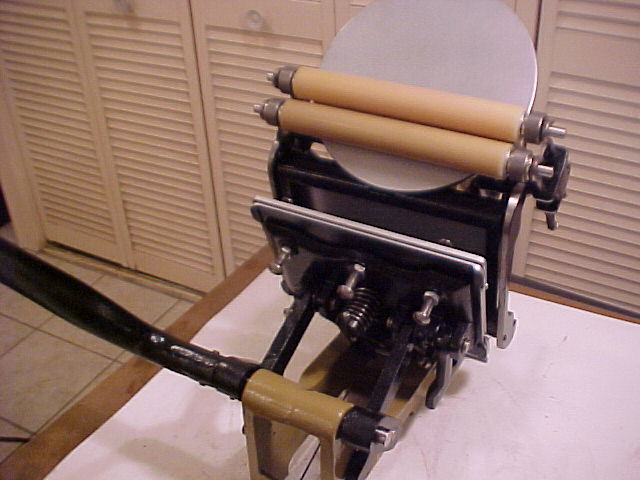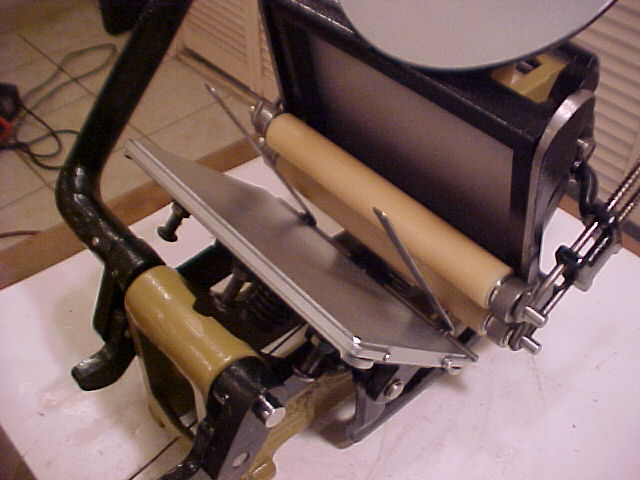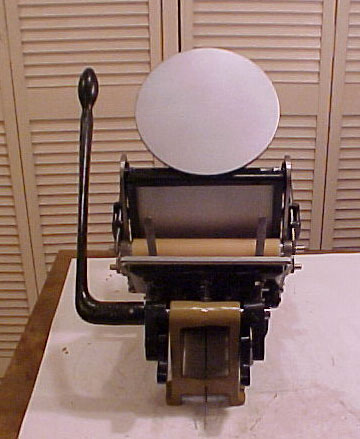 BETTER THAN NEW!
Note the re-designed Extra-heavy-duty lever and drive connection links on this press. (photo above) These are brand new parts - cast of ductile steel and twice the size - and twice the strength - of the original parts installed when this press was first built. We have identified these as a 'weak point' in the original Kelsey design and have cast new parts to exceed the strength and reliability of the original.
This press also includes the new style Victor handle and a set of brand new 30-durometer "Rhode Island Rollers", cast at our restoration facility in Rhode Island.
The original impression shaft and linkages have been replaced with our heavier-duty design to give you more impression with less effort - and less chance of breaking the press under too much strain.
---
Restored Press, including new rollers, beefed-up impression system and fresh paint - applied before the parts were re-assembled.
---
Other presses restored in the recent past:
---


Kelsey Excelsior Side-Arm 6x10" Press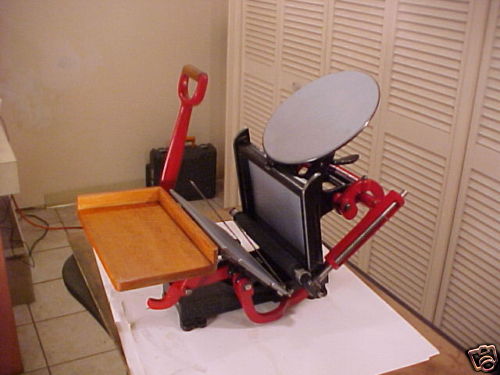 Mechanically restored to better than new.
Repainted, with new feed board & rollers
---

Kelsey Excelsior Model U 5x8" Press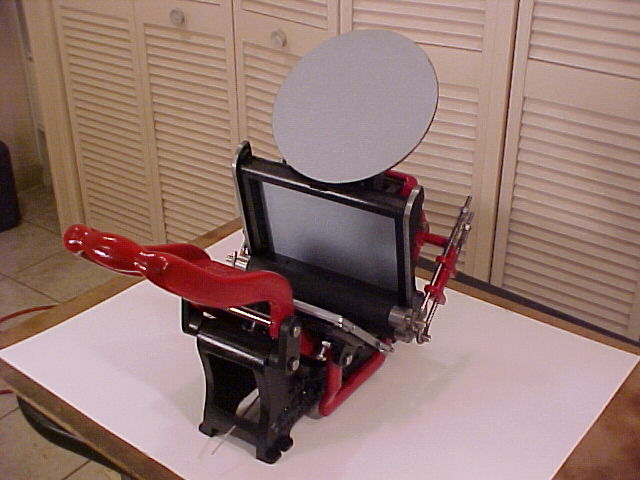 Classic older style Excelsior
- with custom paint
---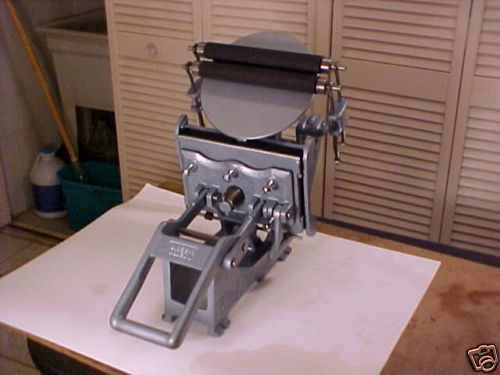 Classic newer model Kelsey Excelsior 5x8
like it just came from the factory

---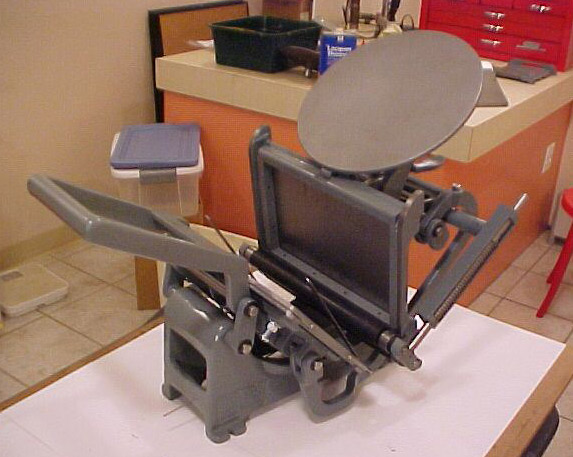 6x10 Kelsey Excelsior Model X Platen Press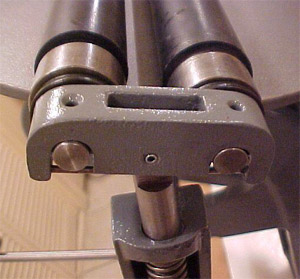 This is what makes the Model X so special - the single-shaft, free floating double roller arm assembly - similar to that used by Chandler & Price on their table top Pilot press - as well as all other platen presses in their line for nearly 100 years.

This assembly assures far better control over roller pressure - and roller parallel alignment - than the more common "double hook" design of the standard Excelsior.