---
Looking for a fine table top letter press?
You have come to the right place.
We believe that during the past few years, we have restored and sold more table top platen presses
than any one else involved in the letterpress community..

And now, we are working on a new project.

The Excelsior Pilot 7x11

( a work in progress )
No, not a 6x9 like the classic old Victor, not a 6x10 like the popular Excelsior, not even a 6 1/2 x 10 like the premier - Chandler & Price. This press is a true 7x11" chase size - like no other table-top platen press available in America today.
Similar in size and capability to the 7x11 Golding Pearl.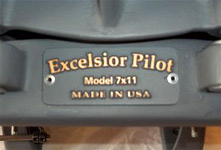 Update: March 11, 2014:

Due to some nasty and not entirely well-founded commentary on Briar Press - one post which specifically references this page, I figured that it was time to add some commentary to this web page which should quell some gossip and stem the continuing requests I receive for details on the Excelsior Pilot.

So. Here's the story:



Before serious health matters limited Louis Colavecchio's ability to operate heavy equipment and handle heavy press parts, Lou and I (Alan Runfeldt) collaborated on designing a new bench top platen press - one which would not only match but exceed the qualities and capabilities of the most popular of the benchtop presses - Mr. Thorp's Pilot Press - first manufactured by the Cleveland Type Foundry c. 1880, subsequently manufactured for many years by the Chandler & Price Company (until about 1964), replicated by Craftsmen Machinery in Boston and American Printing Equipment in New York...

That press is the Excelsior Pilot described on this page and it is the result of about three years of painstaking work and very close attention to detail. The result is indeed an excellent printing press.

Lou had been restoring presses for a few years already and, with a background in foundry work and precision machining, was able to make arrangements with a local foundry and a local machine shop to have unavailable spare parts cast new and machined to use on his press restorations. Unfortunately, the foundries and machine shops Lou was working with in Rhode Island were closing down due to lack of work.

On the one hand, that was good for Lou, since they could make time to do his simple one-off sand casts using patterns that Lou made himself - drawing on years of experience as a mold maker in his youth. And, machining the parts to Louis' specifications resulted in many new parts being made for presses he would buy and restore. But, the down side was that both the foundry and machine shop went on reduced schedules themselves and could not produce the parts needed to make more than one of the new Excelsior Pilots. And, at that, it was very expensive and barely practical to produce and sell for the target retail price.

That one press was made and sold to a hobby printer in Virginia, who uses it only occasionally, and has printed some nice pieces with it with no problem. She does not participate in Briar Press' online discussions, so the folks at Briar Press don't believe her press even exists and have had a fine time attacking Louis - and me as well - in Briar Press' public forum - particularly making fun of the "plastic printing press" which is actually the assembled cast resin patterns meant for photographing only.

While it is true that some of the presses that Lou (who is not a printer) restored with new parts and excellent paint jobs caused frustration for a small number of his customers, most of his customers were very pleased. Many of his buyers came to me (in New Jersey) with their presses for lessons and sometimes adjustments to their presses to "set them up" for optimal performance - things like leveling the platen, adjusting roller height and general use of the small printing press- something Lou was not skilled in doing, and which he believed was a skill the buyer was responsible for. I agree. Everyone who owns a printing press should indeed know how to level their platen and adjust their rollers. Nonetheless, his inability to actually use the presses to print proofs before he sold them hurt his reputation and discouraged him from continuing to serve this market.

He now does other things.



And me? My dream of offering the letterpress community a new printing press is one that has been put on hold for now. I'm not currently prepared to manufacture a new printing press. I can barely keep up with the repair and restoration work I have in the shop already. That's a part time endeavor, after all. I still run the presses and operate a printing business and spend a lot of my time training novice printers in the skills of the trade. When things change, I'll announce it here and on my blog, and possibly - just possibly on Briar Press - if I can face the annoyance of the petty attacks this group seems to thrive on.

- Alan Runfeldt
("Grumpy Old Printer")





The photos below are *not* of a cast-iron press.
These photos show the individual mold patterns that are used to cast new parts.
The press you see here is made of mold-makers pattern resin.
-& weighs about 20 pounds, vs the 175 lbs of an iron machine.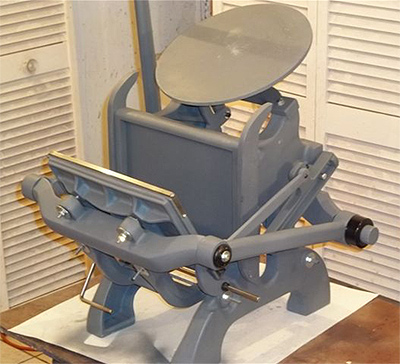 This is a brand-new printing press, to be made in the USA.

We believe this to be the first platen press designed and manufactured in the USA since Kelsey Company developed the Excelsior Model X shortly before ceasing production in the 1990's.
Chandler & Price ceased production of their Pilot in 1964. The C&P Pilot was copied by Craftsmen Machinery and manufactured in Canada, and American Printing Equipment sold a copy that was made in Europe, but those were essentially clones of the C&P.
This press is newly designed - with improvements - and will be manufactured in the United States.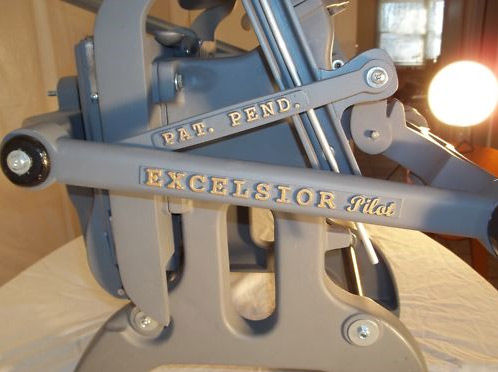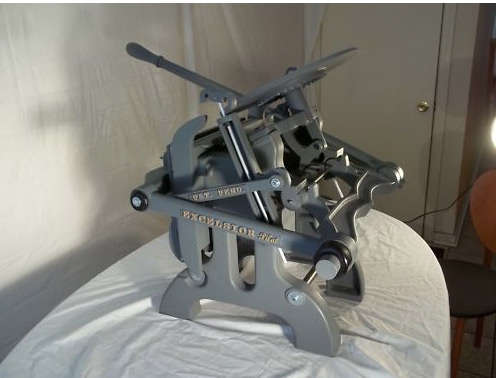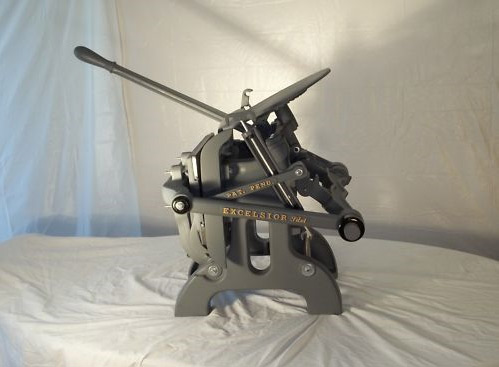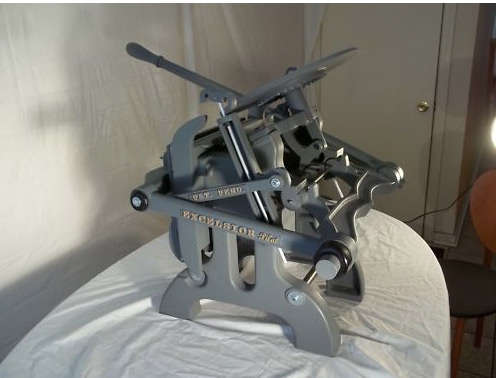 Based upon the popular and proven design of the Chandler & Price Pilot Press, but with enhancements and improvements to make it better in many ways, this is
the
press that the letterpress community has been waiting for.
---


Please watch this page for updates.
For any other questions about this press or any of the presses we repair and restore, please contact us via the link below.

Contact Excelsior Press
New presses and used presses completely restored to better than factory new.
View photos of 8 different models of restored presses
See our Kelsey Parts & Repair Page