While perhaps not the easiest or best style gauge pin to use, there is no question that Megill's patented Spring Tongue Gauge Pins have been and still are - for well over one hundred years - the most common gauge pins in use throughout the United States.
Some printer go through their entire careers using only Spring Tongue Gauge Pins as shown above.
Some of the gauge pins shown on the flier are still being manufactured using Mr. Megill's own patented machine - which he designed during the late 1800s. This machine was purchased from Edward Megill's son Alfred Megill (in 1969?) by what was then the American Wood Type Company, which has evolved into the American Printing Equipment Company.
These gauge pins are available from a variety of sources, including The Excelsior Press - and are included as part of the
Megill's Flexible Feed Gauges
A 100-year old gauge pin re-surfaces as
the
paper guide for today's Photo-polymer plate base printer.
This rather uncommon and unique gauge pin solves a common problem for many new printers. We now stock and supply letterpress printers with this unique and excellent gauge pin. The Megill Flexible gauge pin is particularly useful for printers who mount photopolymer plates on Boxcar Base or the Excelsior Chase-Base. Any base would crush normal gauge pins - but no the 1-point-thick Megill Flexible Gauge Pin.

This is Megill's virtually flat Flexible Feed Guide as can be see here. This pin is only one-point thick - low enough to position anywhere safely - under a depressed gripper or with an Excelsior Chase-Base or the popular Boxcar Base.
These pins
work perfectly under both the

Boxcar Base

and our

Excelsior Chase-Base
. And, better than that, we have found a stash - a not-quite-unlimited supply, but enough that we are stocking 4 dozen - soon to be 100 - at a time. See The
Fundraising Page
to purchase.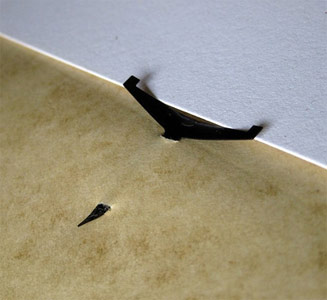 Instructions:
To mount these Flexible gauge pins on your top tympan sheet, you must stab it through the top sheet about 1/8" below the line where your sheet will fall. Then slide the blade beneath the paper and bring the tip back up and out of the top sheet. This will set it lightly in place and you can pull a proof and begin adjusting position. Once the pin is in position, tap it gently at the cross of the "T" to stab the pins through the top sheet of your typman.
If you are running a large, heavy sheet - like a file folder, for example - on a larger 8x12 or 10x15 press, you may find it helpful to set a second pin on the left side. Otherwise the weight of the paper may force the pin out of position. A second pin can minimize this problem if it occurs.
---
Megill's Extension Feed Guides
For extending the capacity of your platen.
Now here's something every small press user should not be without - Megill's Extension Feed Guides actually increase the usable area of your platen by allowing you to set your lower guides as much as 1 1/4"
below
the lower edge of the platen.
And we do have these in stock. See the
Fundraising Page
to purchase some for yourself - or as a gift to your favorite small press printer.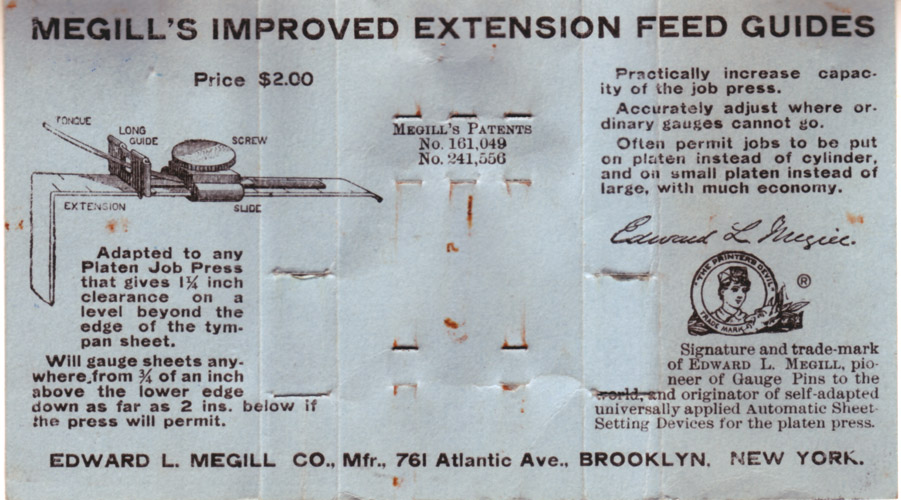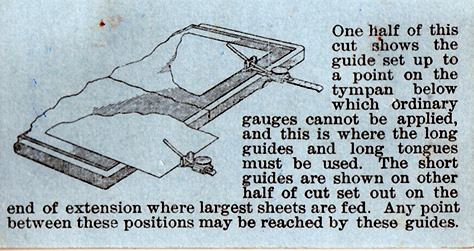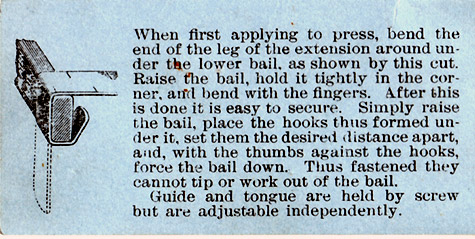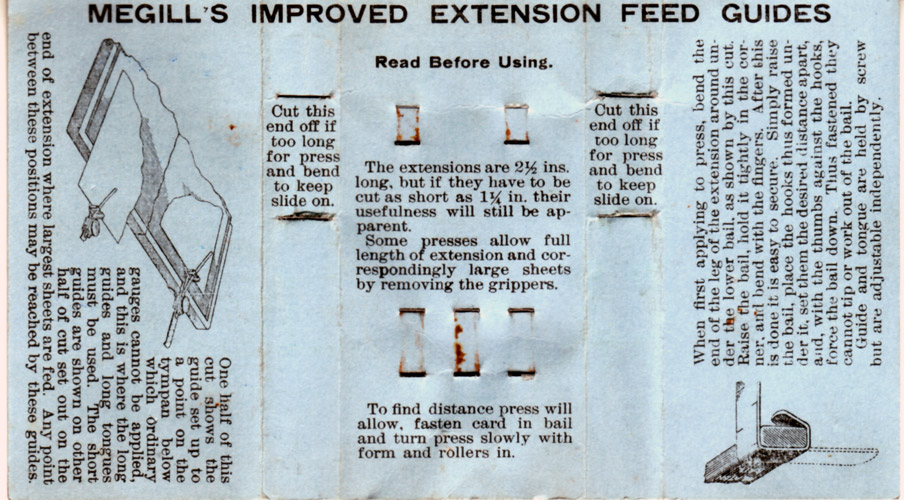 ---
NEW! January, 2011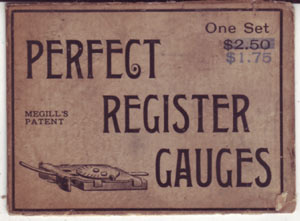 Now, here's something very exciting.
We have found and acquired for our collection, a full, working set of three of Edward Megill's
Perfect Register Gauges
This is something very, very special - something many of today's printers have discussed as "
a good idea - I wish we had gauge pins that could be more easily adjusted."
Well, we once did. 120 years ago, Edwin Megill came to our rescue and invented a very convenient and easily adjustable gauge pin.
Dates stamped on the pins we have indicate patent dates of March 31, and April 7,
1891
.
Unfortunately - and until now - even common knowledge of the existence of this gauge pin has been lost. Perhaps some old printers had heard of them, but no one I had spoken to in the past 50 years ever implied that they had ever existed. There may be some more out there some where in Letterpress Land, but I sure don't know of them. If you do, please
please let me know.
A curious note about this addition to our collection - these gauge pins were found in Flemington, NJ - only ten miles from the location of the Excelsior Press Museum!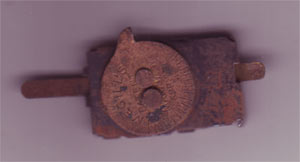 This gauge pin is glued to the tympan - approximately where you suspect the pin should be placed.
But, once in place, this Perfect Register Gauge can be adjusted up or down a few points - by simply moving the tang on the upper cam - to allow for
Perfect Register
of each card you print.
The Perfect Register Gauge is the ideal solution for tight-register, multi-color work, in which aligning subsequent colors is always a challenge.
click the image above for a close-up view. The photo may look a bit rough, but the cam moves smoothly, so these pins should still work as designed - 120 years ago.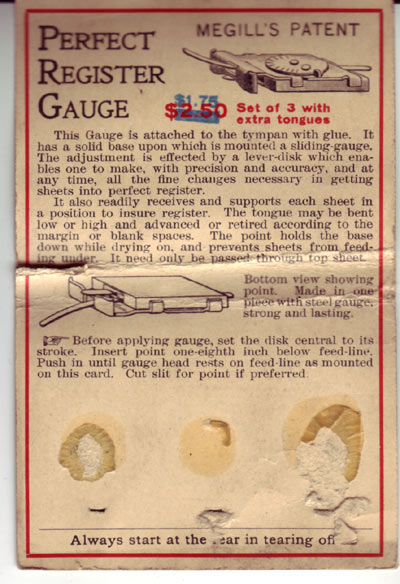 The sheet at the left includes complete instructions on how to use this pin on your press.
As you can see, the price was dropped from $2.50/set to $1.75/ set after these cards were printed.
Perhaps they were not well received by job printers who were experienced using the less expensive pins and did not feel a need for such a device.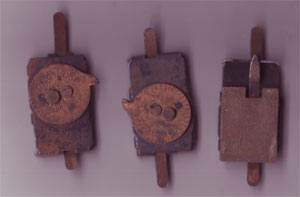 But today's printers simply don't have time to gain the experience of the typical printer of 100 years ago. For them, it seems that this perfect register gauge pin would be a boon.
Below is an advertisement and price list this that came with these pins...
Note the strange graphic image. We had not see such an image on any other Megill literature. What year was such a graphic design in style????
(Note: the Double Grip Gauge shown on this sheet was patented in 1924)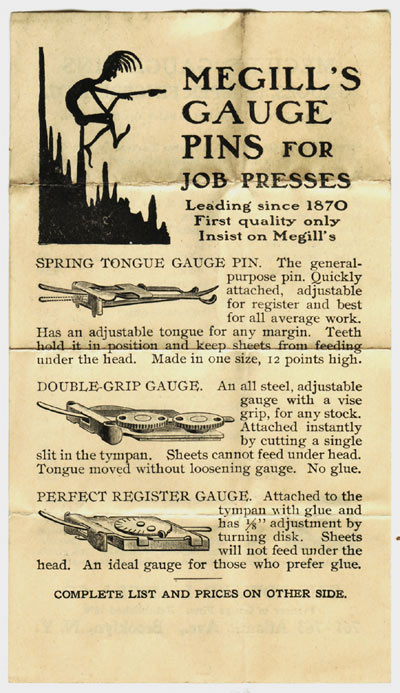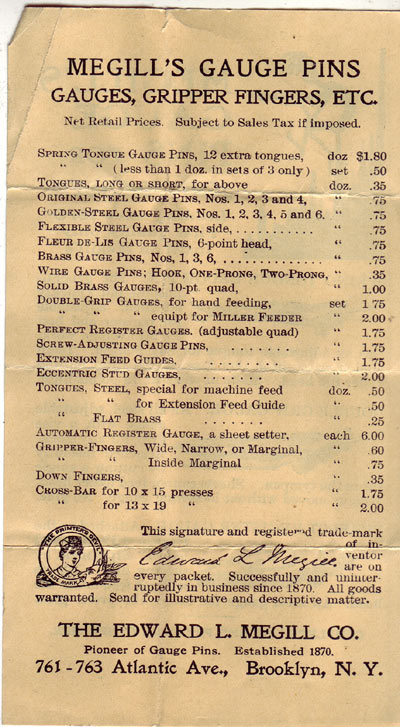 I'm sorry that we don't have any of these to share with other printers - YET - but if we can come up with a source - or figure out how to make some, we will...

Note: Thanks to

Edward Megill's grand-daughter

(Alfred Megill's daughter) Charlotte for important updates to this brief history.
---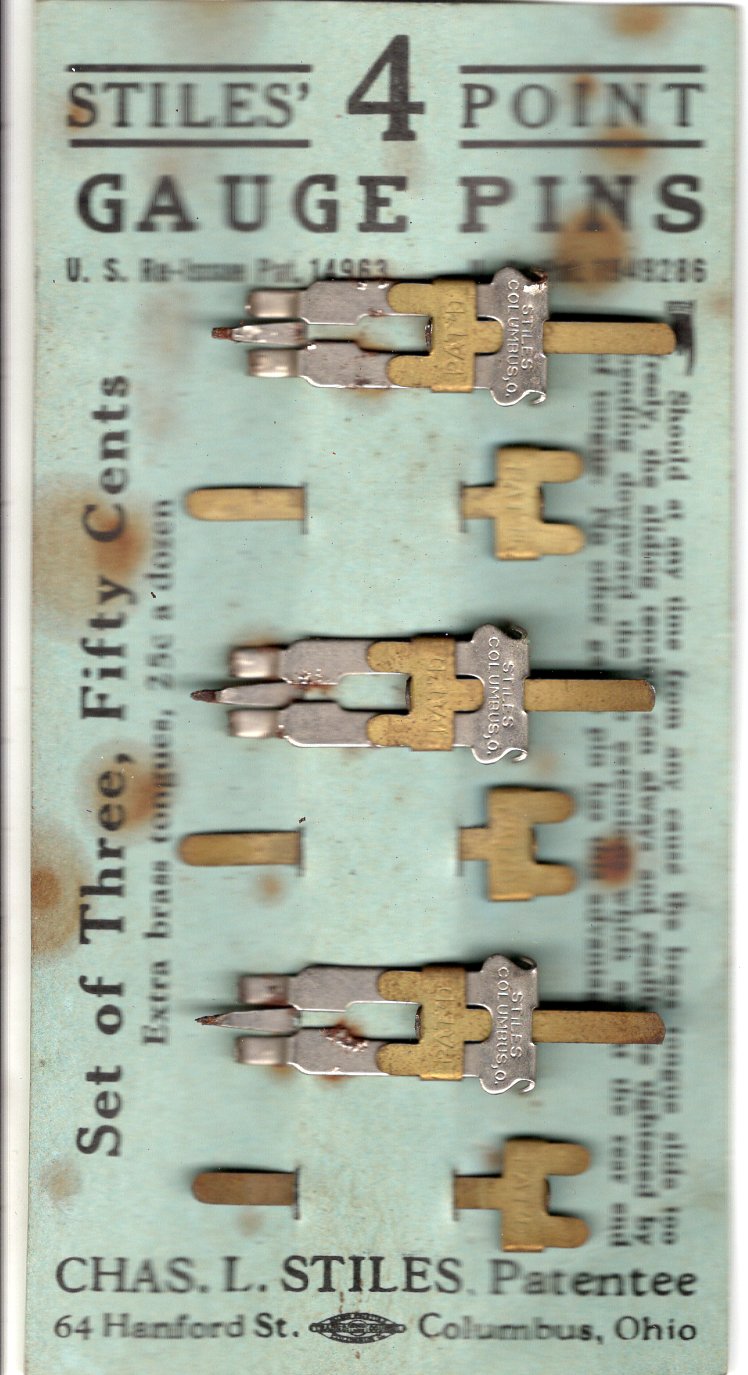 OTHER GAUGE PINS:
Stiles 4 Point Gauge Pins
- Just found this new old stock package of a clone of the Megill Spring style Tongue Gauge Pins -
the Stiles Gauge Pin
, were patented by Chas. L. Stiles and made on Hanford Street in Columbus, Ohio. They look pretty much like the Megill's, are packed as a Set of Three and sold for $.50/3 at one time...
patent numbers: U.S.Pat. 1949286 with a re-issue Pat. 14963 These were found in the bottom of a small box of "stuff" that came out of a shop that was most active during the 1930's & 40's.
---
Larsen Quad Guides
Another popular gauge pin, also still in use today, is the
Larsen Quad Guide.
Although copied by other manufacturers and available under other names (aka KORT - available from
NA Graphics
), the Larsen Quad Guide is number three in this list of what I believe are the most popular gauge pins in use today.
The Larsen Quad Guide is based upon the old technique of gluing a 10 or 12 point 2-em or 3-em quad to the packing, with a small piece of cardboard glued to the top. While only minimally adjustable, the idea of gluing tabs onto a platen is still with us today.
The Larsen Quad guide uses a spring clamp and 3 rows of small teeth on the upper part, to literally clamp the guide into place when slipped through a slit in the tympan. These guides are adjustable about 18 points in either direction and are very firm.
---