THE EXCELSIOR PRESS MUSEUM PRINT SHOP AND RESTORATION FACILITY
---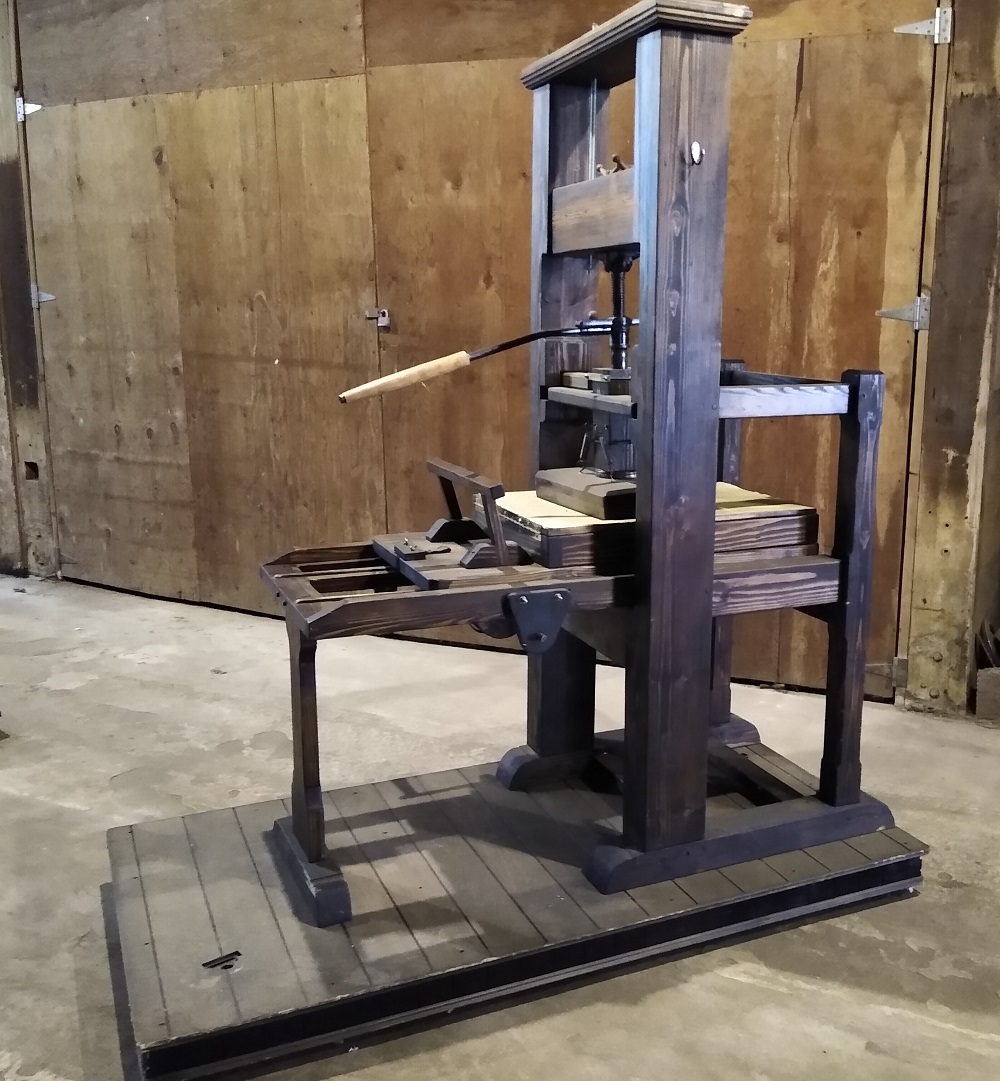 Creating an 1850


Newspaper Printing Office


with historical accuracy
~~~~~~~~~~
CLICK ANY PHOTO FOR CLOSE-UP VERSION

I received an inquiry during the summer of 2019 - could I supply the equipment to represent an 1850's print shop for the Apple TV show Emily Dickinson?
Yes, indeed - and here it is...

---
This was not to be a "modern", state-of-the art print shop, but was a one-man shop housed in a rural barn - composed of used equipment that would have been used by one man who wanted to print his own newspaper. Our old type cases, and the Wooden Common Press and other items fit the bill perfectly. The scenes were shot and I had a wonderful time teaching actors how to act like printers....
---
Printing Press(s

) ~ Stone Table ~ Proof Press ~ Bindery Cart ~ Type Cabinet ~ Suggested Layout ~ Other Items
*note all items are functional and usable for printing and are period accurate - circa 1850

---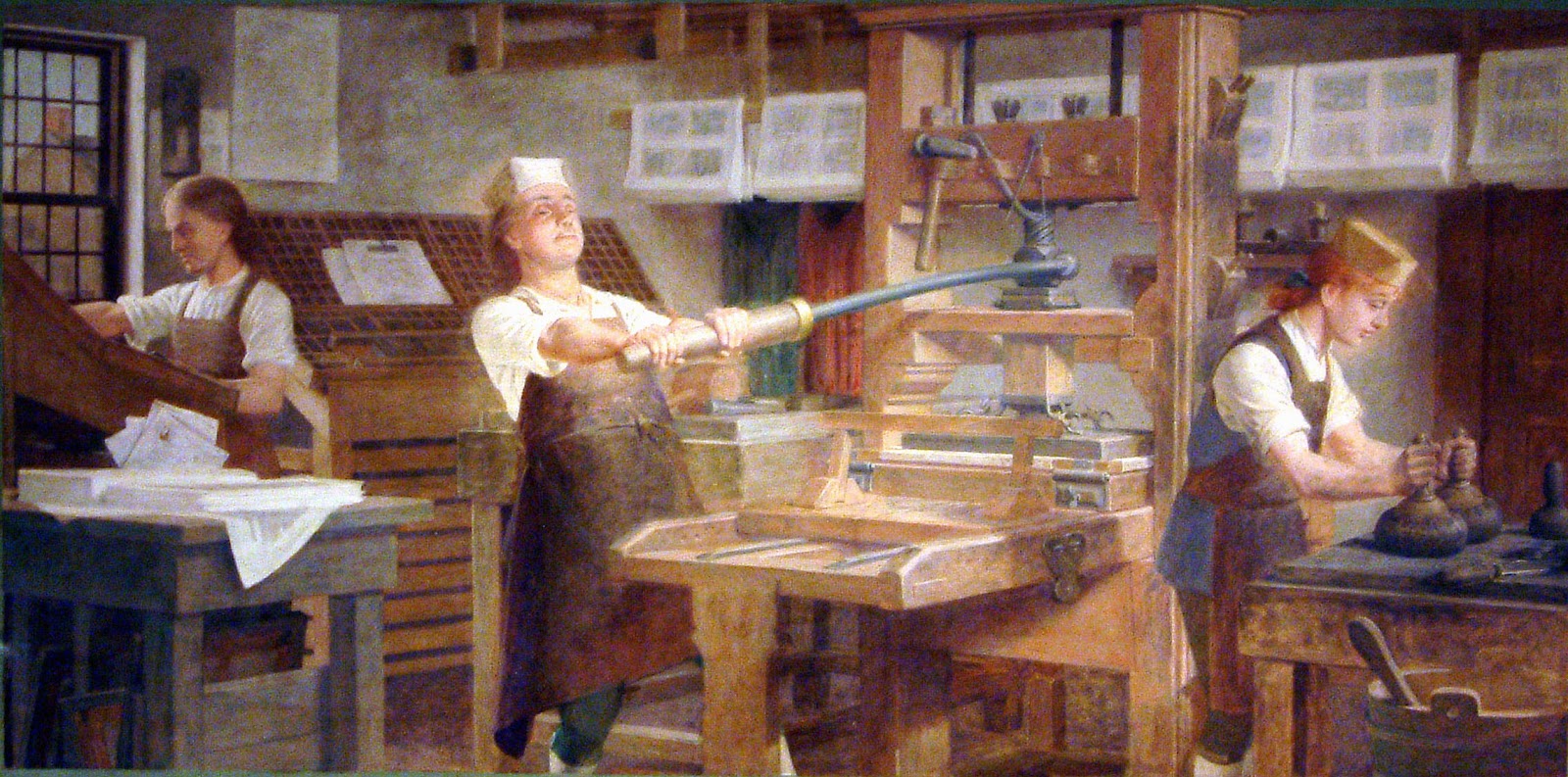 Typesetter, Pressman and Inker at work printing a
book.
They could just as well be printing a newspaper, but the sheets drying on the line are 4-page signatures that would be gathered, folded, stitched and bou
nd into a book.
The inker is using "ink balls" which would have been replaced by an ink roller by 1850.
For more on Ink Balls and Ink Rollers -
American Bookbinder's Museum
---
First of all,

although flatbed cylinder presses were indeed being made before 1850, they were very expensive, as were the Iron Hand Presses also used at that time. The Wooden Common Press, however, cost far less and was still being used. In fact, Adam Ramage was making new Wooden Presses in Philadelphia as late as 1840-50. And, since repairs were typically done by a locally available "joyner" ("joiner"/skilled wood worker), rather than an expensive "factory-trained machinist", maintaining a Wooden Common Press was easy and inexpensive, adding to their continued use in the face of progress

.



---
Below are photos of the equipment we are prepared to supply.


---

The Wooden Common P

ress



Wooden Common Press: 30x60x80"

*
Press Platform: 39x75x4"
Estimated weight: 500 pounds



* 84" when mounted on

its platform as shown



This press was built at The Excelsior Press Museum Restoration Facility in Frenchtown, NJ in 2014. It is a faithful representation of the ubiquitous Wooden Common Press - a standard design used mostly unchanged for over 200 years. This press is listed on the International Registry of Common Presses and was on display at the Smithsonian-Affiliate National Museum of Industrial History in 2018.

Our press was made from plans produced by Harrison & Sisson with The Smithsonian Institute during restoration of a representative Wooden Common Press in the Smithsonian collection in 1970. It is also nearly 100% identical to the presses built by Adam Ramage until his death about 1840, so it would be accurate to represent this press as "an older, used press built by Adam Ramage during the 1830's"...

Since the newspaper to be represented began publishing in 1846, and consisted of only four pages per weekly edition, it is entirely likely that the press the publisher would have chosen would be the inexpensive, available old standby - the Wooden Common Press and that the print shop described here would be equal to the task.




Except for the steel screw, this press is all wood, fitted using mortise & tenon and wooden pegs. For convenience when moving, it is mounted on a platform with 6 wheels for easy moving and includes especially-made "mini-chocks" to lock the wheels in place and prevent inadvertent movement of the press once it is in position.

Since it is made of west-coast fir instead of oak and elm or mahogany, and lacks the 200# stone bed, it is relatively light - perhaps 500-600 pounds by estimate. It moves quite easily on its platform. The same press made of hard woods and containing a 200 pound stone bed, would weigh closer to 800-1000 pounds.


---




Iron Hand P

ress


Optional Press -

This press was made by Schneidewand & Lee at the turn of the century. It represents the more common and familiar 19th-century Iron Hand Press which became available by 1830. However, the Iron Hand Press cost about three times as much as a Wooden Common Press, so the idea that our printer started off with a less expensive, used press makes perfect sense.

This press weighs about 2,000 pounds, requires about the same floor space as the Wooden Common Press and is available (at extra cost) as an alternative to the wooden model.

For more on Iron Presses and the transition from Wooden Presses, see the American Bookbinder's Museum page on the subject




---

Stone Table



Stone Table 27x63"

- 100 pounds


Stone Top 24x36" - 150 pounds*




MDF Faux "Stone" 24x36" - 30 pounds *(alternate)




Furniture Cabinet 9x12x28h"

(approx.) 25 pounds

This table is known as

"The Stone"

due to the heavy 2"x24"x36" smooth granite slab on top of it. The Stone is also referred to as the "Makeup Table" since it is used to make up type forms for printing and includes a small wooden "furniture cabinet" filled with precisely cut wooden spacing material used by the type setter to space out the type form as he locks it into the chase (steel frame)



The Stone

can also be used as an

Ink Table

, since once the form is made up and in the press, it is no longer needed until the printing job is done. Meanwhile, it serves as an excellent smooth surface for mixing ink and maintaining a supply for inking the form.

And, due to the

weight

of the actual stone, we are also preparing a "prop" stone made of laminated MDF, painted to look like granite. This may be more appropriate for this application. It will look the same - but will be

much easier

to handle safely.

Click on either photo to compare the stones





---

The Proof

P

ress



C&P Proof Press 24x35" 300 lbs (est.)

The

Galley Proof Press

would be used to print a proof-reader's sample of the type that has been set. It can be used to print short run jobs as well, but is not as well suited to that task as it is to print galley proofs of type.

The Hoe Company began making presses like this one in 1840.





---

Bindery Car

t



Bindery Cart 21x27" 50 pounds (est)

The

Bindery Cart

would be used to move paper around the shop. The shelves are sloped slightly to the rear to prevent tall stacks of paper from falling over while the cart is being moved from the press room to the bindery.

It can also be used to bring blank sheets to the press for printing. We made a proper, historically accurate new shelf for this old cart.



---

Type Case Stand

(aka Type Cabinet)



Type Cabinet 28x36" - 25 pounds




15 type cases - stacked 25x32x20" high - 150 pounds



The Type Cabinet holds ten - fifteen drawers of hand-set foundry type - letters - lots and lots of letters. The Typesetter picks letters out of the cases and assembles them into rows and columns of type for printing.

When filled with cases, two are left on the top - an "Upper" Case - containing capital letters and a "Lower" case containing lower-case letters.





---

---

Suggested Layout for Historically Accurate Representation of a small printing office circa 1859



In this layout, the

TYPESETTER

would move only left and right - from the type cabinet to the proof press, then on to the stone to lock up the form, then back to his type cases without interfering with the printers.

The

INKER

would stand where he is and move to the left to get ink, then apply it to the form from where he is. The

PRESSMAN

would stand where he is, crank the bed in and out and pull the lever, then crank the bed out and open the frisket - all without moving much at all. The

FEEDER

would take blank sheets from the Bindery Cart (or a table), and insert them into the tympan. The pressman would close the frisket, crank the bed under the platen and continue... One printer could do 50-100 pieces per hour. With three printers, output could be more than doubled.



Complete List of Items:


1 Full Scale, Wooden Common Press (similar to one that would have been made by Adam Ramage in 1840) - with chase

1 Stone Makeup Table with

with 24x36x2" granite stone surface

1 Furniture Cabinet (shelves) with wood spacing material


1

Galley Proof Press on Stand

("made by" Hoe circa 1840)

1 Bindery Cart

1 Type Cabinet

2 type cases with type

10 type cases - empty
1 Old-style Composing Stick

miscellaneous "stack" of wood-mounted metal engravings


1 large ink brayer (ink roller)

1 container of black ink (Van Son Rubber Base 10850 - old style can; no label)

1 ink knife

5 sheets press tympan paper


5 sheets soft packing

50 sheets 17x22 bond

50 sheets 11x17 70# offset

2 printers' shop aprons

selection of wooden quoins & wooden shooting stick

1 wood mallet

1 leveling planing block

Hemp Cord for paper drying line.

...tbd...







---

~~~~~~~~~~~~~~~~~~~~~~~~~~~~~~~~~~~~~~~~~~~~
page last updated September 6, 2019

---