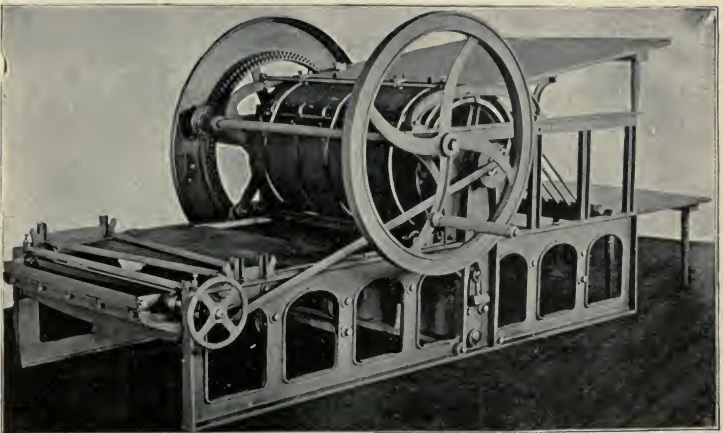 Newspaper & Book Presses
of the 19th Century


Cylinder Presses of 1867-97


and


Be

d

- and - Platen Presses 1830

-


---
From an 1897 Type Foundry Catalog
~~~~~~~~~~

In 1897, Cleveland Type Foundry listed the Campbell Country Press as one of the newspaper presses they sold. The text below the image indicates that this press had been in use for "more than thirty years".

That would suggest that this press could would have been an option beginning in 1867, but similar presses from other manufacturers might well have been in use as early as 1840.

This is a hand-fed, hand-cranked press. The bed moves back and forth beneath the cylinder, which rotates in one direction and lays the printed sheet on the delivery board (beneath the feed board) after it is printed. The long fingers shown in the bottom right would slip under the printed sheet as the impression cylinder rotated and would rotate up to support sheet and lay it onto the delivery board for stacking and drying.

This press is equipped with a hand crank, but can also be driven via line shaft or other means. Later installations may have used a gas or steam engine to drive it; and, when they became available, an electric motor.

This is a very basic, simple press; easy to replicate and "pretty much" period accurate circa 1850.

These presses did dominate in smaller newspaper offices well into the 20th century and can still be seen in operation in some museum printing shop exhibits.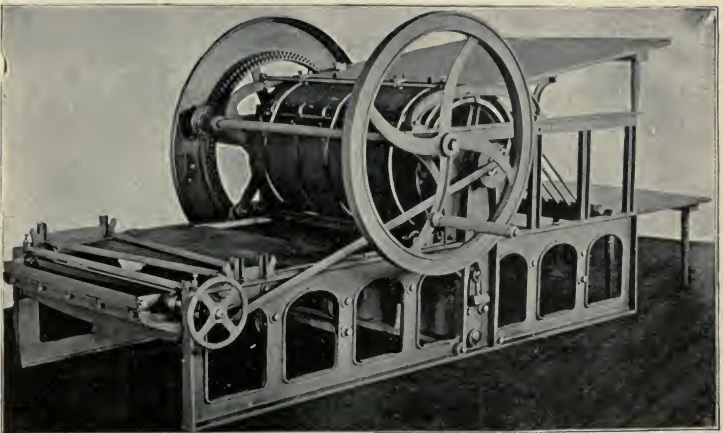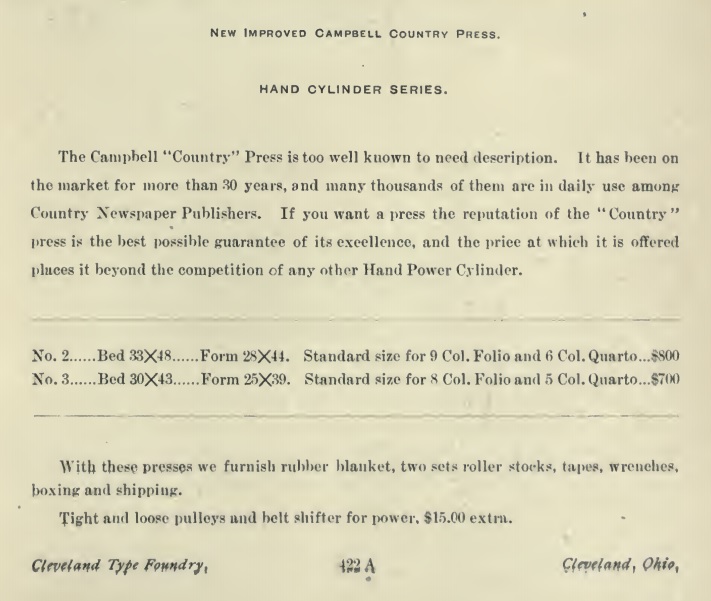 ---
Cincinnati Cylinder Press circa 1870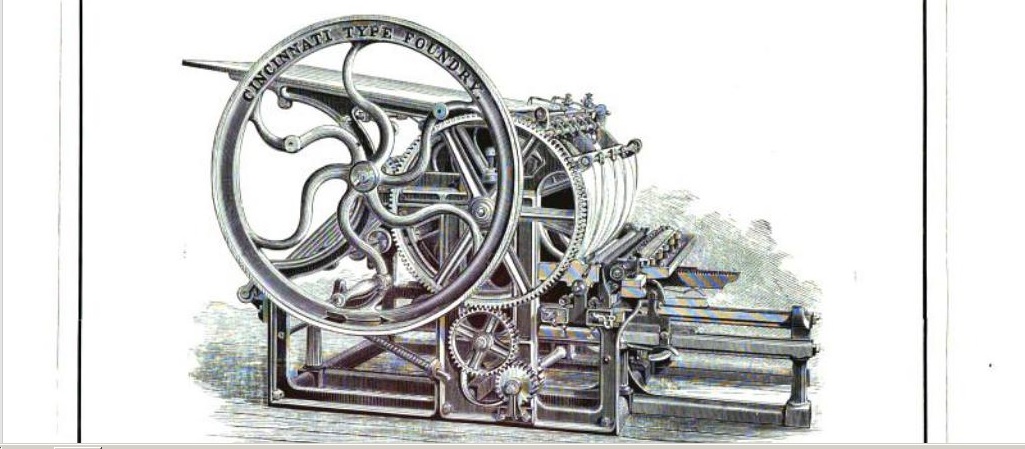 This Press was made by the Cincinatti Type Foundry and sold under their name in their 1870 Catalog
CTF Claimed that this press would print 700-1000 sheets/hour or 10-15 rpm
These presses came in a variety of bed sizes that could handle forms from 24x36 to 30x48"

---



A NOTE ABOUT PRESSES USED IN DIFFERENT SHOPS


It is also important to note that these are only a few of the many presses used to print books and newspapers during the 19th century. More advanced presses had been made, but sold only to the largest big-city newspapers, while most smaller newspapers in the country were printed on presses such as these.

These presses were also used for printing more than books and newspapers. They were also considered "Job" presses - used for printing various commerical printing jobs - posters, calendars, anything that needed to be printed and was to large for the common hand-fed platen press to handle.

An interesting note in this regard is the Washington Hand Press currently on display that the Holcome-Jimison Farmstead Museum in Lambertville, NJ. It was used to print the weekly Milford (NJ) Leader. That old hand-fed, hand-inked, hand-pulled Iron Hand Press was used to print the small town's weekly newspaper until 1949 - nearly 100 years after others considered this style press to be "obsolete". It wasn't. Old presses run for a long time....
Washington Hand Press on display at the Hunterdon County Demorcrat



---
Bed - and - Pl

aten Presses



Although the Flatbed Cylinder style presses did become dominant after 1850, prior to that, the transition from Wooden Common Press to Iron Hand Press to Flatbed Cylinder Press included a less well-known design -

the Bed and Platen Press

. On this style press, the older Iron Hand Press style platen was incorporated to make the impression and the sheets were hand-fed into a powered system. That power could come from leather-belted Line Shafts as seen in the images below or by a steam or gasoline engine. These presses could produce up to 1000 impressions per hour while maintaining the image quality of the older style Iron Hand Press, which the flatbed cylinder presses of the era could not.

---
Gleason's Magazine Press Room circa 1852
(image identified by printing historian John Archibald)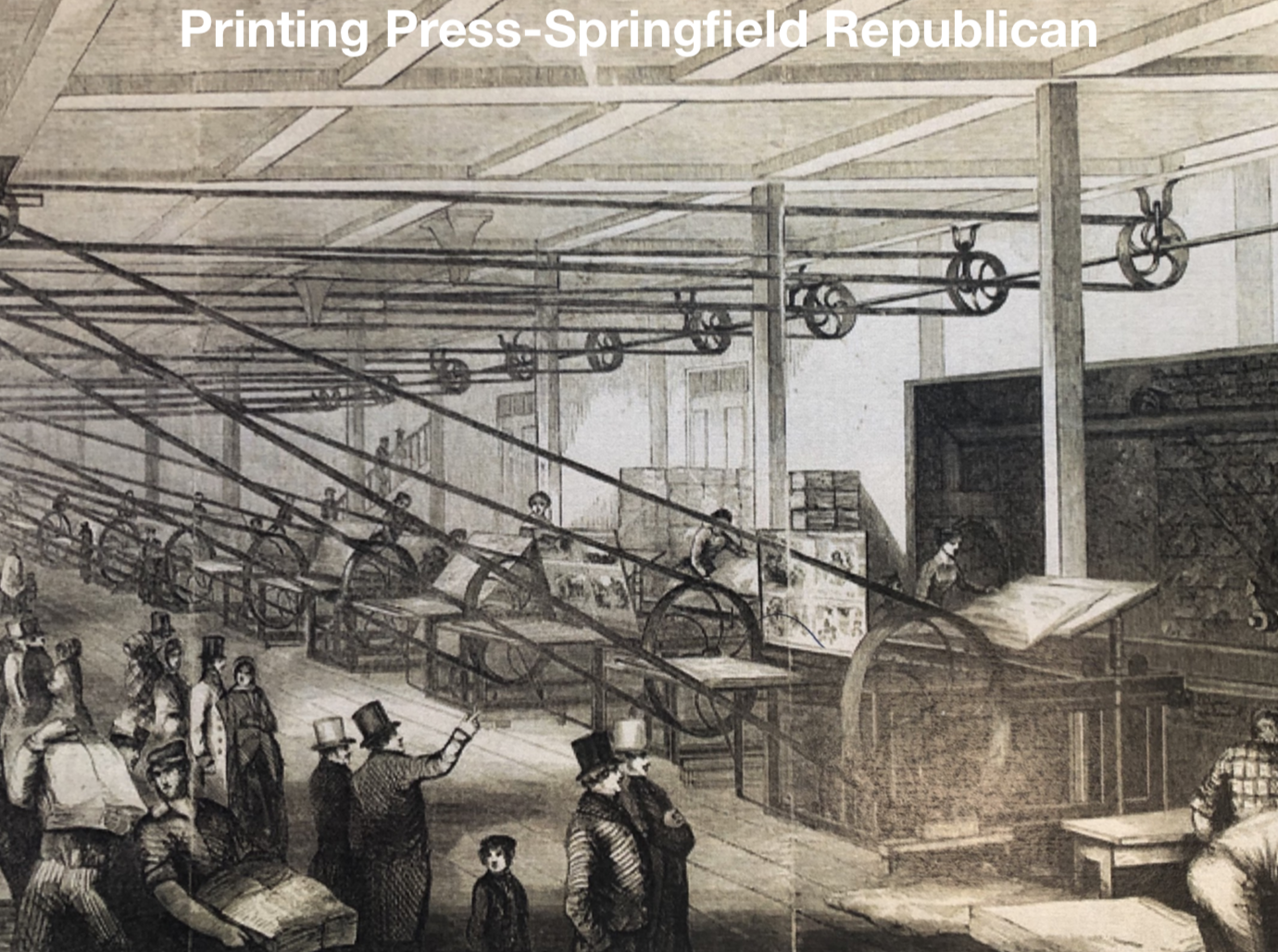 The presses shown above - as can also be seen in the photo below appear to illustrate not the more familiar flatbed cylinder presses, but appear to be

"Bed - and - Platen"

presses which were actually more popular for quality printing during the early 19th century.

These presses were powered, but continued to use the older style platen for impression, rather than the cylinders that became more popular after they were improved after 1850.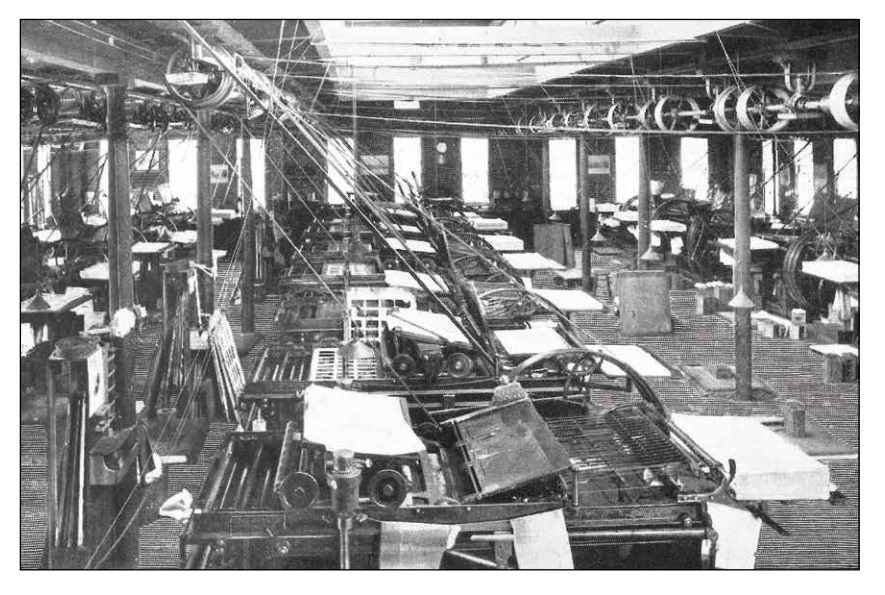 Bed - and - Plat
en Presses in Press Room
(location and year unknown)

---
photo taken from


BED & PLATEN

Book Printing Machines


A technical study by


Douglas W. Charles




with a foreword by




Stephen O. Saxe


"American and British streams of ingenious regression in the
quest for print quality"


published MMXVII by PLANE SURFACE PRESS


~~~~~~~~~~~
See more about of

Bed-n-Platen Printing Machines

at


GalleyRack.com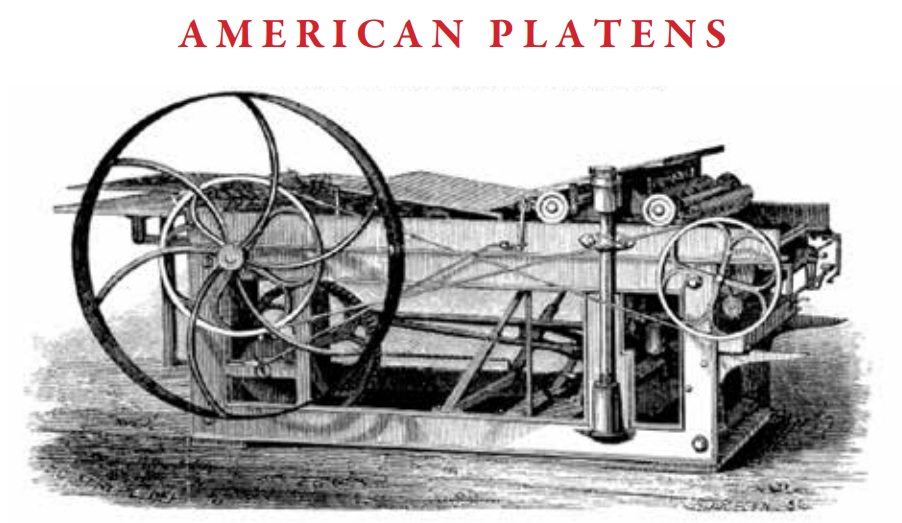 Adams Single Feed Bed-and-Platen Press as adverti

zed in

1856


This is more likely the press shown in the photo and drawing above. This is the press more likely to have been used at the Springfield Republican in 1840.

---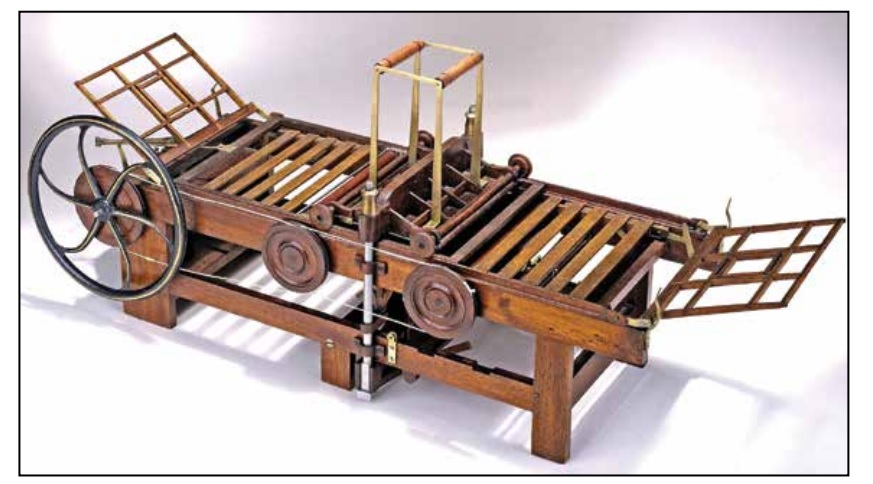 Patent Model of Adam's Two-feed Bed and Platen Press


note the old style iron platen in the center.

This press was designed for two sheet feeders to operate from opposite ends of the press, with sheets being transported to beneath the platen to make the impression. The single-feed Bed -and- Platen design - as seen in the advertisement above - was shorter and designed to be operated by a single feeder. In other words, "half" of the press shown in the patent model photo.

Inking was accomplished automatically - using glycerine or leather-covered rollers rather than the old style Ink Balls used on the hand-operated horizontal platen presses - whether Wooden Common Press design or the later Iron Hand Press Design.

The Bed -and- Platen design greatly improved production without losing the image quality that the Iron Hand Presses were known for. By 1860, designers of Flatbed Cylinder Presses were able to accomplish the improved image quality formerly only available with a fixed platen design.

And, while many Flatbed Cylinder presses have survived into the 21st century, few, if any of the Bed -and-platen design appear to exist outside of books and museums.