THE EXCELSIOR PRESS MUSEUM PRINT SHOP AND RESTORATION FACILITY

---
These are the presses that were being sold by American Type Founders in 1897...

images were scanned from the 1897 ATF Catalog

---
At the time, a printer could buy an old-style designed Washington Hand Press -

OR

one of the a "new" style of jobber like the C&P or Gordon for the same price - $150...

---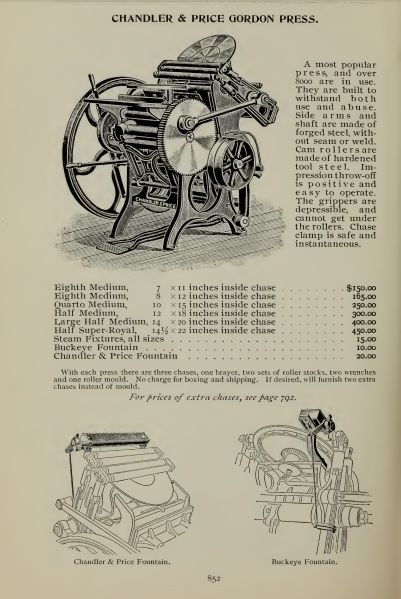 topThe Chandler & Price "Gordon" Press

The C&P Gordon is probably the most common platen press found in America today - as has been the case since Mr. Chandler & Mr. Price formed the company to manufacture the platen press designed, not by G.P. Gordon, but by Hentry Thorpe of the Cincinnatti Type Foundry around 1888.

Mr. Thorpe sold these presses as the "Thorpe Gordon" for only two years, passing on the market to Chandler & Price and falling into obscurity as the name chosen by C&P to market this press was the better known name "Gordon".

C&P made the "Early Series" press as shown here from 1888 through 1914, having introduced their "New Series" presses in all sizes by 1914. The main visible difference can be seen in the spokes of the flywheel; curved spokes came first, but were replaced by straight spokes beginning in 1912 on some models, and on all models by 1914.

These presses also came equipped with Full or Pony Ink fountains, that would assure consistent inking throughout a long press run.

Although unskilled hand feeders should keep to approx 10-15 impressions per minute, these presses, when new would often be run as quickly as 30 impressions per minute.

These presses also came equipped with foot-operated treadles, but could also be driven via line shaft or electric motors.


---
top
The Challenge "Gordon" Press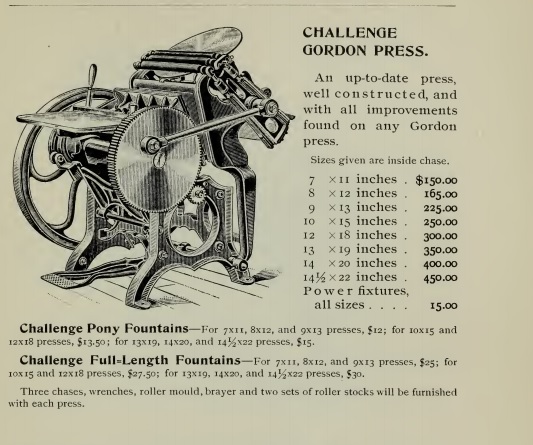 Challenge Machinery Company also built a "Gordon" press and capitalized on the popularity of Mr. Gordon's reputation.

Although a solid company, Challenge was unable to overcome C&P's marketing and the advantages of their Thorpe-designed press, so these presses are far less likely to be found these days - but in 1897 were certainly trying to be the front runner.

This press never became as popular as Gordon's press or C&Ps, but Challenge Machinery continued to be a major producer of all sorts of print shop equipment.

---
top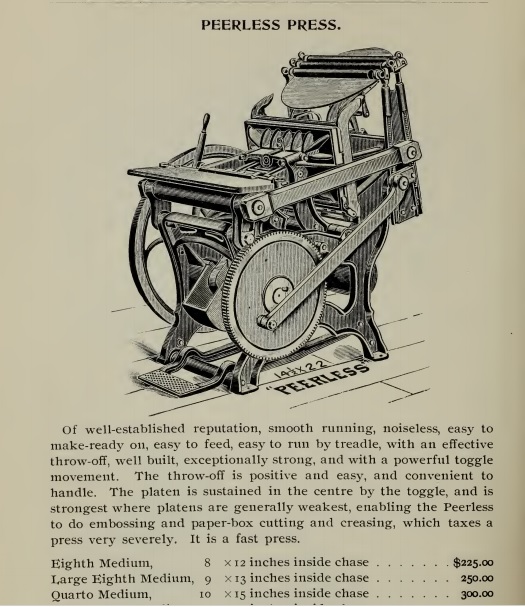 The Peerless Press

Also known as the "

Peerless Gordon"

for reasons outlined above, this was a very popular press in its time.

In 1897, this was a major press in job shops, but by 1900, The Peerless Press, like all others of its style, succumbed to the marketing success of Chandler & Price.







---
top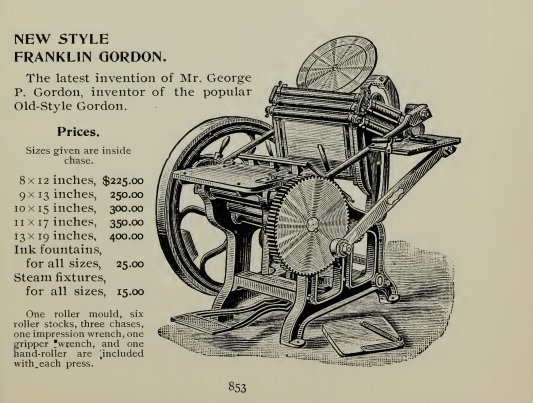 The New Style
Franklin Gordon Press
As stated in the advertisement, this was "the latest invention of Mr. George F. Gordon" - the latest style of press - and quite possibly the last of his designs. Gordon presses were made by license agreement in factories from NYC to Chicago, San Francisco and Tokyo.

And, although H.H. Thorpe was influenced by Gordon's general design, his rotation platen-to-bed motion differs greatly from Gordon's more "clamshell"-like impression engineering approach.

C&P's Thorpe design soon eclipsed the master's original - and quite popular press. Gordon ceased building presses like this by 1900. C&P took over and dominated the market for the next 50 years, bowing only to the German-made Heidelberg Windmill which eventually became the "must have" press for all letterpress job shops.



An original Franklin Gordon was recently discovered in the basement of a home in New Jersey. The woman's father had begun using it in 1948. Soon, it wil

l be put back into service in a working letterpress museum and will be used to pass on the skills of the craft to a new generation of letterpress printers...
---
top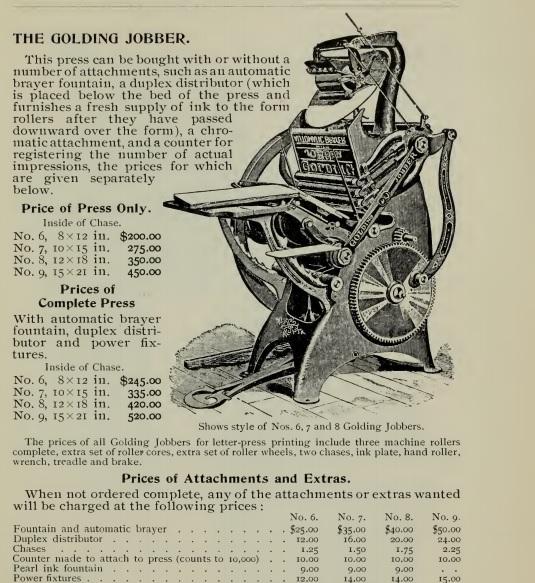 Golding Job Presses brought a new design to the industry, employing a rotating platen on a curved base that

pushed

the platen around from the back using a totally different mechanism than employed by any of the "Gordon style" presses of the era.



T

he Golding Jobber

was the dominant heavy-duty general job press of its day. Not as common as the C&P, but built stronger and favored by many printers - particularly the very large "Art Jobber" models which came equipped with ink fountains and as many as 6 rollers.



T

hese presses

came in 4 sizes from 8x12 to 15x21 and were built to withstand heavy use.



---
top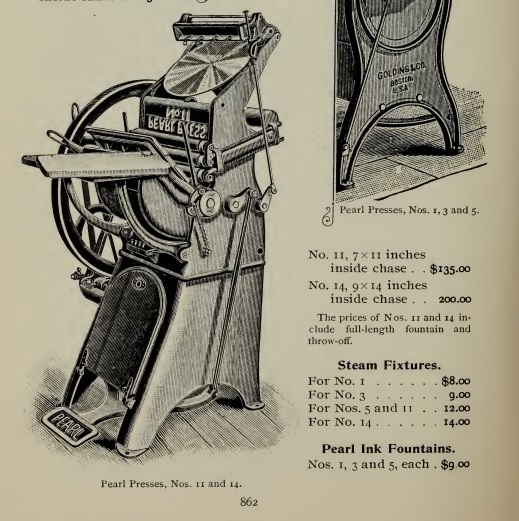 The Golding Pearls

Golding also made a lighter-duty series of presses in sizes from 5x8 to 9x14. These presses were commonly treadle driven and were touted as faster and easier to use than other larger presses.

The did employ the same engineering as the heavy-duty "jobbers", but were lighter and faster to operate.

Early models did not have impression throw-off levers on all sizes, but when the "New Series" came along, all Pearls had this very important safety feature.

These presses, along with the smaller C&Ps have stood the test of time and are still very popular, even though it's been more than 100 years since they first went into production. In 1927, ATF bought the rights to the Pearl and continued to sell them for years afterwards.

---
top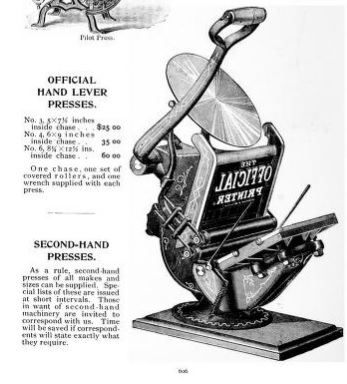 The C&P Pilot - & the Golding Official
Bench Top Presses

C&P & Golding also made high-quality, but inexpensive bench-top presses for much lighter duty printing and as teaching aids for just about all high schools in the country. In fact, almost every high school in America used Pilots to teach their students the basics of platen press printing before moving them on to the larger - and more dangerous job presses (mostly C&P Platens) that they would encounter when they joined the trade as apprentices.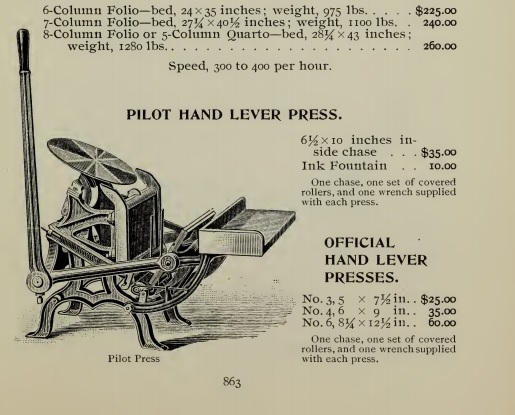 The C&P Pilot, like the job press, was designed by H.H. Thorpe but rights were quickly acquired by C&P, who actually sold parts

to

Thorpe as he sold his presses as the Thorpe "Standard" press for a few years after C&P bought the patent rights. The Pilot was updated as the "New Series" Pilot when C&P updated their entire line around 1914.

The Pilot has become arguably the most sought-after bench top press in use today, with some selling for as much as $4,000 when fully restored to like-new condition - years after many high school print shops (like my own) tossed their Pilots into the dumpster - a tragic loss.

Golding Officials, are one of the most beautiful small presses ever made and when they can be found, rate right up at the top, eclipsing the more common Kelsey table top presses, which were made at low cost to sell cheap - and actually as a draw so that Kelsey Co. could sell them printing supplies...

---
top of page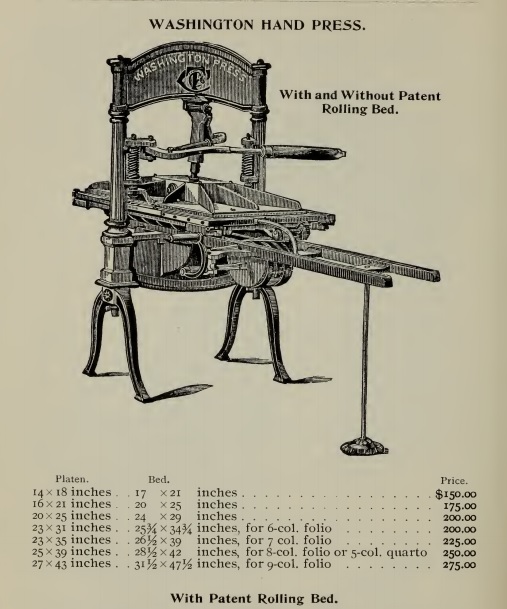 The Washington Hand Press -

By the early 1800's, the Wooden Common Press began to be replaced by a variety of Iron Hand Presses. It began with the Earl of Stanhope Press around 1810 and ended with the Washington Hand Press, built by Hoe & others from 1820 through at least 1906, when this press was offered by the Cincinati Type Foundry, aka "CTF" as can be seen cast into the frame of this Washington. Although the presses were still being built by CTF and Schneidewand & Lee and others, these presses were commonly used as proofing presses - specifically for photo-engravers. The last of the Iron Hand Presses lacked the full tympan & frisket devices required for production work.

---
top of page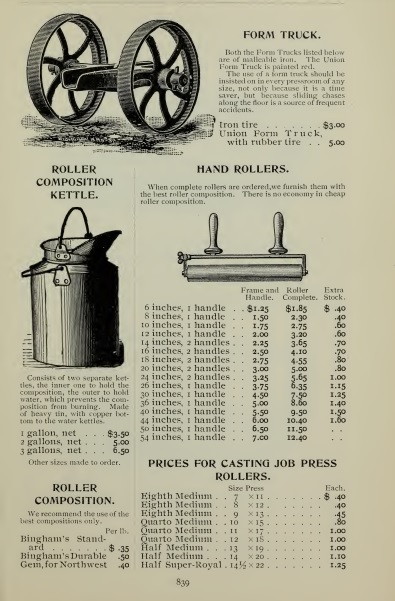 Other Pressroom Items
There were many other labor-saving items to be found in the print shop of 1897. Here are a few of them...

The first one shown is the Form Truck. This mini-dolly would hold a large locked up chase/form on its edge and allow it to be rolled anywhere it needed to be. Often, large forms would be moved around on a "Turtle" - a heavy-duty rolling table made by the Turtle Company, but sometimes, this form truck would be used instead.

The second item is the Composition Kettle. This would be used to pour molten "composition" into mold - generally supplied by the press maker. The composition would cool in the molds and produce a new set of rollers for the press. This would often be done twice a year - once with "Winter Composition" - which would be larger, allowing for shrinkage in the cooler, drier climate of the shop, while in the spring, the printer would cast his "summer rollers" which would be smaller in diameter, allowing for some swelling in the hot, humid air of summer. These presses often had two sets of trucks as well, to be used with either size rollers, or to lighten the impression when printing ruled forms.

Also on this page are the "inkers", aka "brayers". Before presses had automatic inking systems, and after the older Ink Balls went out of use, the older style presses - like the Wooden Common Press or the newer Washington Hand Press would be hand-inked using these wide-format hand inkers.

---
top of page
~~~~~~~~~~~~~~~~~~~~~~~~~~~~~~~~~~~~~~~~~~~~
Please contact Alan Runfeldt with other questions
contact
page last updated November, 2019

---