---
Excelsior Press on Youtube
OUR "NODEADLINES" YOUTUBE CHANNEL PAGE
(45 VIDEOS TOTAL)

---
From time to time
, we record a video of something being done in the shop. Some of these have been online for years, but all I had on the website was a link to the Youtube Channel. Now we have links directly to videos with descriptions, to make it easier to benefit from the content of these videos without the hassle of searching through them....
Comments are welcome: Please
Contact Us
---
C A T E G O R I E S
INSTRUCTIONAL ~ DOCUMENTARY ~ JUST FOR FUN ~ OTHER PRINTING VIDEOS
and.. "as seen on tv"...



Fiona Otway's Documentary -


"Kiss the Paper"


filmed at The Excelsior Press


(that's me, printing cards on Joseph Ishi

ll's old Pearl)


teaser video on Vimeo


to see the full documentary, please contact info@FionaOtway.c

om






THINGS WE MAKE AT EXCELSIOR PRESS

---
INSTRUCTIONAL VIDEOS
(see also other videos)
---
The Julie's Press Series
Julie was getting a restored 5x8 "for Christmas", but since her husband contacted us only a few weeks before Christmas, and we could not deliver by the time Santa was scheduled to come by, we did the next best thing - videos of her recently restored press - along with some helpful instruction in how to use it...

-

View all videos in sequence using

Julie's Playlist





The Liz' Press Series


Russ bought a restored 5x8 Kelsey for his wife's birthday.

Now it was time to get it there... We wanted to get Liz' press to San Diego quickly

since we had been delayed quite a while beyond the originally scheduled ship date. As it turns out both FedEx and UPS would have taken longer and cost more than USPS - especially if we managed to bring down the weight to 69 pounds 15 ounces in one box and use a flat rate box for the items we removed to bring down the weight. This way, the press will reach San Diego in two days - in two boxes, but faster and for less cost than competetive options. Besides, this can be done right at our local post office using a procedure we use daily and are already quite familiar with... This is the press featured in our July 31 blog post -

Re-Assemble a 5x8 Kelsey Excelsior shipped in two boxes. - A 90-second video showing how to unpack and re-install the ink disk, chase bed & chase and ink rollers onto a 5x8 Kelsey Excelsior Press that was shipped in two boxes.
Fifth Video -

Printing Coasters

on the 5x8 Kelsey Excelsior Table Top Platen Press
Sixth Video -

Washing up the press

& Packing removed parts

(coming next

)

|


note: we removed some parts to lighten the box for mailing via USPS.

WLPA-7 - Placing the 48-pound press into the box...
WLPA-8 - Installing Two Expanding Foam Cushions into the box to hold the press in place firmly.
WLPA-9 - A short one - installing the third foam cushion..
WLPA-10 - another short one - installing the top cushion into the box.
WLPA-11 - Closing the Box - preparing to weigh the whole thing...
WLPA-12 - Weighing the packed box - 63 pounds. Success! Stripping off those parts resulted in a package that is 7 pounds below the USPS limit of 70 pounds.



Removing the Platen from an Early Series C&P Pilot -
It's a little bit tricky, and not for the faint-of-heart, but for historical purposes, here's how I did it - Video #1 / Video #2 - and how *not* to do it... (outake)


Scoring poster board on a 9x13 Gordon Platen Press to Make a Box A very short - 30 -second video - with no commentary - showing how I use the old Gordon to score 4 sides of a piece of poster board to make a box.

Here's the commentary I left out:
"After scoring, I cut one slit along the score lines in each of the 4 corners. These become the flaps that I glue or tape to the side or back of the box. To make a matching box top, I simply cut some stock that is slightly larger than the one used for the bottom. A dimension that's 2-3 thicknesses of the material larger than the bottom works well to give the top enough clearance to fit over the bottom. I make boxes like this in the shop all of the time, in fact, most of my old collection of photo-engravings are stored in low, flat boxes I made this way. It's also a great way to enhance the delivery of any printed material. Works well for odd-sized note cards and such. And, the best part, is that you can make them to any size you want as needed. The only limitation is the size of your platen.

Sometimes, I tape the top to the bottom along one long edge and trim the front flap. This makes for an even nicer presentation."


1/29/2018 - Printing Cards on the Pilot Press. Prior to shipping this press to its new home in North Carolina, we do some printing as part of the q.c. function...
1/29/2018 - Printing Coasters on the Pilot -

Note

:"

View these next two videos in sequence and compar

e the difference of the sam

e press, with and without the shim

installed under the ink disk




3/25/2019

-

Printing Business Cards on the restored U-Penn Kelsey Press


3/26/2019

-

Add a shim to your ink disk -make the press move more smoothly

1/14/2020

- Printing some business cards on a C&P Pilot we just finished working on.

---
DOCUMENTARY
(in reverse chronological order)
---
January, 2020

- Frank Sattler from NMIH demonstrating use of a clutch drive an old 10x15 C&P at the Lynn-Heidelberg-Historical Society location in Ontelaunee Park, New Tripoli, PA. This press was in use locally for many years. Previous owner kept it until she was 102 years old! - and it is in

perfect

condition



May, 2019

- Nikki Prints some coasters on her 6x10 Excelsior - Nikki brought her 6x10 Excelsior to the shop for a set of rollers and, as it turns out, 3 new roller hooks to replace the bent ones that came with her press.



June, 2018 -

And here are two short videos of my friend Barry printing coasters at the NMIH tent at the Kutztown Folk Festival and another short one - June 30, 2018



Dec, 2016 -

My Nephew Jared came by to make a wedding gift for some friends - coasters... Printing Coasters on the 8x12 C&P


Printing on the Old Gordon Jobber Platen Press - Sarah & Jenet run a scoring job Sarah came by with her friend Jenet to score table tents for a wedding invitation suite she had printed on the Vandercook. Rich Polinski accompanied them on the guitar with a particularly good rendition of "Drops of Jupiter"


Running the Windmill -The 1953 Heidelberg Windmill - just a short video of the Heidberg at work.



2007 -

Running the 25x37" ATF Kelly Model 3 Flatbed Cylinder Press at The Garfield Messenger, Garfield, NJ.- Published Oct 2009. The ATF Kelly Three - the last - and largest - of the ATF Kelly Flatbed Letterpresses made in America.

Only used once a week for the past fifty years to print the local newspaper. This press is now was available to a good home. Could have been used to print newspapers, books, pizza boxes or the mother of all posters - 2 feet by 3 feet! Could also be used for die cutting extremely large sheets. Sadly, there were no qualified takers for this classic old - working - beauty, and it went to scrap



2007 -

Hand-feeding the Dexter Folder at The Garfield Messenger, Garfield, NJ.
This is the hand-fed folder that Jimmy used to run every week since he was a kid - helping his Dad publish the Garfield Messenger in Garfield, NJ until it ceased publication in 2007.

This piece was saved as a result of someone seeing the video. It was NOT scrapped and now resides in a warehouse in Brooklyn, so I have been told.



2004 -

Wayne Miller's 3-minute Documentary of Alan Printing Tickets on the C&P Hand Press and posters on the Vandercook.

Published on Jun 18, 2008

Alan Runfeldt at the Excelsior Press - Hand-feeding the circa 1914 10x15 Chandler & Price Platen Press and the circa 1946 Vandercook Model 4 Proof Press - printing tickets and posters for the River Moon Film Festival in Frenchtown, NJ 2004


The Composing Stick Proof Press and Four Impressions per minute

The Bowers Museum in Costa Mesa, California wanted an interactive display for their Children's Museum to show their visitors how Ben Franklin printed from movable type. They had no budget for a full-sized $30,000 reproduction of a press like the one Ben used over 200 years ago, and besides, they wanted something small, simple, inexpensive and safe for children to use. During a long-distance phone conversation, the plan came to mind and I went to work inventing a portable little press that could hold a composing stick of hand-set type and print directly from the composing stick - something so simple that children - and even museum staff - could do it flawlessly.

The idea was that the visitors would set their name in the stick, then insert the stick into the press and make a print, thereby getting at least an idea of what it was like for Ben Franklin - and printers of his era, to set type by hand and print one sheet at a time on a hand-operated printing press.

In the end, we even set aside the ink and brayer as too messy for the children to use - and requiring daily clean up. Instead, we used small sets of carbonless paper to press an image into. It worked. Even without any ink, the impression made an image on the second sheet of the two-part set. The press worked well and the museum staff were very pleased... and I had fun inventing and building it...
---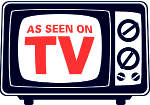 As seen on TV...
---
Just for fun.
---
Dec, 2013 -

Plowing At Night - Published on Dec 14, 2013

A somewhat boring 64 seconds of me driving my little Cub Cadet 1450 along the lane, plowing the snow. It may seem boring to most viewers, but for me, it recalls the zen-like feeling of being alone on the tractor, all bundled up like a mountain man, just pushing snow off of the lane. The muffled drone of the engine in my covered-up ears, the narrow focus of view as I dodge the incoming snow flakes being blown at me by a rather stiff wind... It really is kind of peaceful, and reviewing this video reminds me of that..

There were only 4-6" of snow, but my wife, Cathy - a night-shift nurse - had to leave for work at 10pm. It could not wait for daylight. My Cub Cadet 1450 has headlights, so we were ready. But it was cold and windy and snowy. Not so much fun. But the lane - the 125-yard gravel lane that leads from the house to the main road - was cleared and she made it out and onto Route 12 - and made it to work safely and on time. I was hoping that she got there safely - and that the the snow would finally stop for the night... As I recall, it did - just after she drove out the now-cleared lane...
The next day was spent repairing the broken lift handle, which snapped just as I was finishing up. Fortunately, it didn't snow again for weeks...

---
Other "Must See" Printing Videos
that I've seen and liked

- not my own work, but certainly worth sharing:


---
---