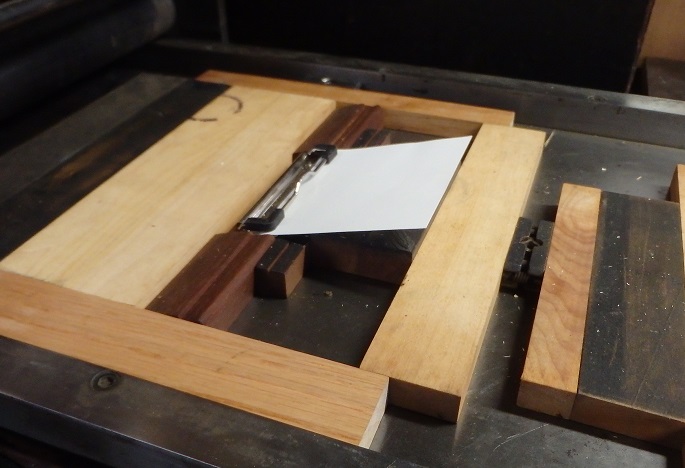 TOP
We invented and make a paper clamp and register device for galley proof presses.

(click on photo for a closer look)
This device will allow you to achieve dead-on perfect dot-for-dot register printing printing one color - or two colors - in perfect reproducible position. The original design was made to lock up in your form. But now, it has magnets embedded to hold it in place even without furniture and quoins...
With the magnets embedded in the base, it need not be locked up, but could be simply laid on the bed - the magnets will hold it in place. In any case, the angle on the device will suspend your sheet just above the form to keep it clean until the impression roller goes across and presses the paper onto the form. Once printed, the sheet must be removed before you roll the impression roller back to home position.
Head alignment is achieved with a shallow ledge that aligns the sheet against the back stop. Side alignment is achieved (currently) by use of one side guide. We are currently using our Excelsior Cushion Quad Guide (not shown in this photo)
---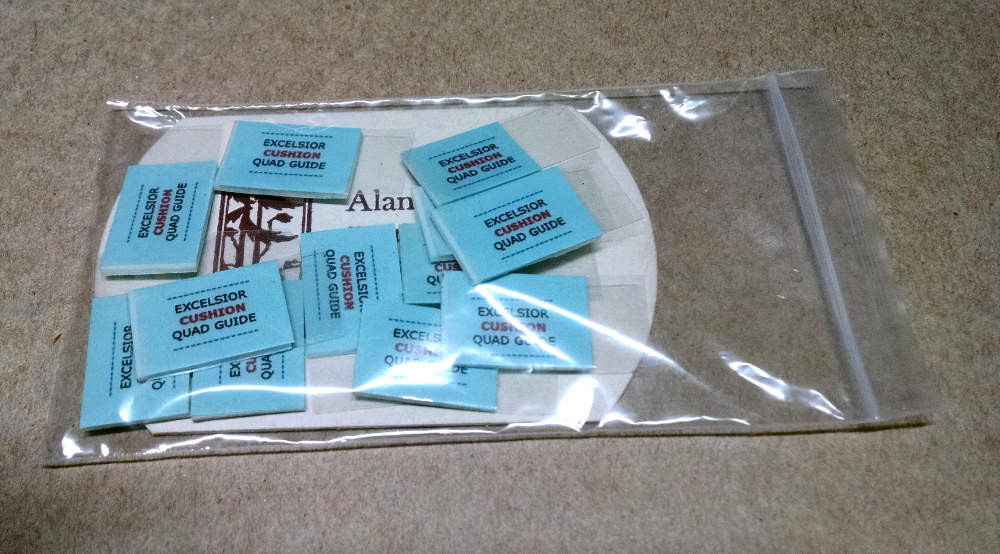 TOP
We make our own compressible "gauge pin" - although it's not really a pin, but it is the
Excelsior Cushion Quad Guide
click the link above for more details about this product.
click the photo for a closer look.
---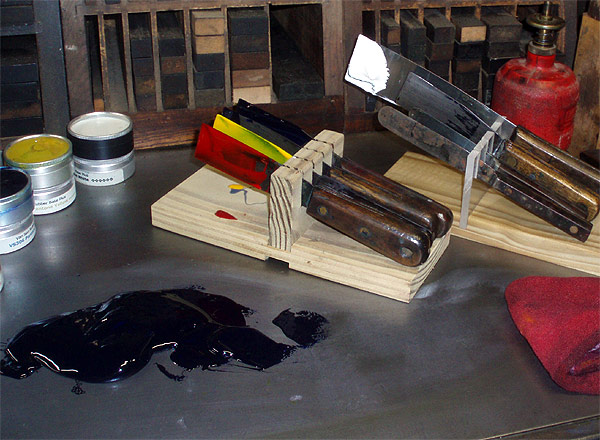 TOP

Ink Knife Holders
We started making these after some very annoying experiences with ink knives laying all of the ink plate and, frankly, getting all covered with ink. With this device, you can keep ink on 4 knives - one each of 3 colors, plus one more with mixed ink on it-
and never have a mess or get ink
on your hands...
It sure helps keep the stone clean when I'm mixing inks...
---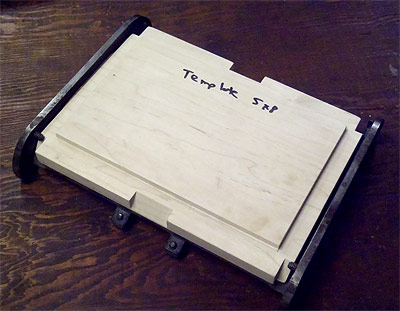 TOP
The Excelsior Chase-Base
This thing has been quite a hit. It came out of the need to mount photo-polymer plates on small presses - without limiting the plate size. It will mount as large a plate as your bed can fit - 5x8 on a 5x8 press, etc.
It replaces your standard chase and requires no lock-up. Although made of either wood or Richlite, it can handle all of the pressure that a table top press can produce - and costs far less than one of those heavy-duty metal bases. Grid lines are not needed; you can mount your plate exactly in position based upon the setting of your paper guides - on the paper you are going to print on. More info on our
Chase-Base info page
---
---
TOP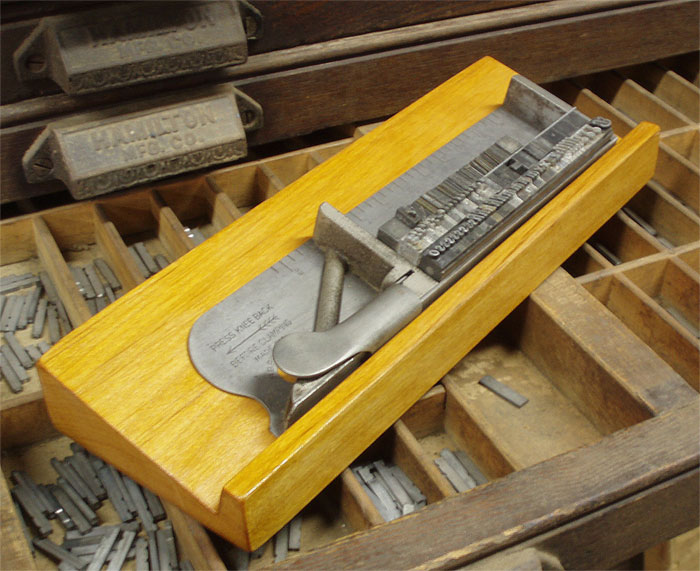 Composing Stick Holder
A friend saw this in an old printing supplies catalog and showed up in the shop one day - quite a few years ago - with this one.
I asked him to make more for me to sell. He did, but he also soon tired of the project, so I began to make them myself using dark brown Ipe wood. They last for ever and are really, really handy. Since the stick is held at a slant, type in the stick does not fall over. We use them all over the shop and everyone who has one seems to like using them quite a bit.
You can too, if you'd like -
Item # CSH
- $16 ea.
---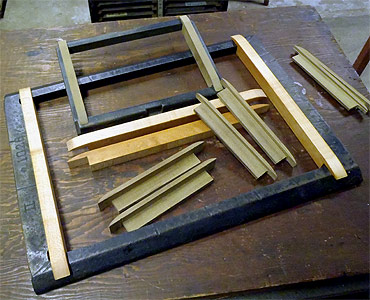 Roller Bearers
label
Our roller bearers are made here in the shop from new hardwoods (Maple, generally) or recycled wood furniture pieces cut to fit precisely - type high - .918" - on our 1.0-point precision Hammond Glider Trim Saw. Bearers are then finished - for protection from ink stain and solvents - with the same Paraffin Oil used by The Thompson Cabinet Company when they made the furniture they sold to the Kelsey Company and to print shops throughout the country for many years.
The ends of the bearers are shaped to fit over the top and bottom as well as the side edges of the chase and rounded to allow smooth transition of the rollers over the form.
Most press manufacturers offered roller bearers made of formed sheet metal. But I had a set of very old wooden ones - probably made prior to 1930 - which I used in my shop. When a friend saw them - and how well they worked, I was asked to make a set for them - of wood, just like mine. Well, that was a long time ago and we have been making custom-sized roller bearers for many presses ever since...
To see the impact roller bearers can have on your printing, see out detailed
page of roller bearers in action
- and
this example
of the effect of using roller bearers. This
test print
shows the before and after effect of adding roller bearers - and fixing an image problem in just a minute.
---
TYPE CASES
Yes, after many years considering this, we are about to embark on a new project - making Hamilton/Thompson - style type cases. We're not ready to tackle the California Job case, but we are already in the process of making 12x12" Kelsey-style "Hobby Cases" and 2/3-sized Hamilton-replica Double Caps Cases.
We are already working on restoring a
Hamilton City Stand
and will be using the same tools in the shop - and fresh Poplar wood to make type cases - as well as short, modular 3-5 type case racks based on what we have learned while restoring this one.
5/24/19
---
... AND MORE TO COME
---
These items will soon be available for purchase through links on our
Fundraising Page