Well, we're starting off a new year with some exciting news.

while the gauge pins remain firmly attached to the tympan.

This idea is something we have pondered and discussed with friends for years. We didn't know they ever even existed, but now we do. See more on these amazing gauge pins on our

the Kelsey plant in Meriden.

This model was featured in many Kelsey Catalogs over the years and was preserved by Gene Mosher until he sent it down to The Excelsior Press along with a treasure trove of his own archives and memoribilia - including, but not limited to, the original Norman Bel Geddes illustrations of the 6x10 Kelsey, many of the engravings used to print Kelsey Company advertisements and catalogs for over one hundred years, and a complete archive of both

But, even here there' a twist, because their "directions" card simply contains a nice graphic and a web link to the updateable information...)

Nonetheless, the printing is all letterpress; two custom-mixed inks - yellow and green to match their originally intended design - not PMS colors, but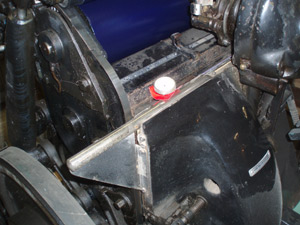 During the winter, we monitor the press' temperature as we begin the day. We don't expect the ink to behave well until the press has reached 50 degrees.
This cooking thermomenter, inserted between the platen & the bed of our Heidelberg Windmill serves the purpose well.
It's embedded through a piece of bright red tape so that we don't forget to remove it before turning on the press... - >
more on "printing in the cold"
---
March 20, 2011

Not much to report in the shop these past few weeks, but it is time to make a public apology to those of you who may be wondering why we have not been active in the shop, doing any classes, filling orders or even answering emails.

It's one word - one big word -
TAXES
... Yes, believe it or not, we are actually actively involved in doing a hell of a lot of bookkeeping and preparing tax returns. We need to get our financial records in good order as part of a plan to complete our recovery from the financial disaster which struck the family about five years ago when our primary source of income was drastically cut. -
and believe me, running a museum print shop is most definitely not a lucrative business...
We're trying to buy a house. But first, tax returns need to be filed.
So. Please bear with us as we go through this effort to get our records in order and apply for a mortgage so that we can take advantage of the currently low real-estate prices and buy a home. Besides, Cathy's mother is coming to live with us soon and we need more room for the extended family... We will be heading out to St. Paul to pick her up next week and will be gone until Mid-April. So. please accept my apologies to anyone who has needed our help during the past few (and coming) weeks.
- Alan
---
March 27, 2011
Exciting news arrived today.
Fiona Otway
wrote to let us know that her new letterpress video -
KISS THE PAPER
- the video about "letterpress printing, then and now" - which was filmed entirely at The Excelsior Press - with appearances from Joe & Andrea of
Laughing Owl Press
- has been accepted into its first festival of the season! Athens International Film Festival in Ohio -- April 22nd -28th. The Athens Film Festival is supposed to be a great festival for documentaries.
http://www.athensfest.org/
-
see listing
Please be sure to check it out - and watch for more announcements of film festivals it will be shown in - AND a trailer which we hope Fiona will have time to put together for us to post online for you to see.
The film/video was shot at the Excelsior Press last fall - using both film and video cameras, and shows some type-setting, printing on the Vandercook, Pearl & Heidelberg, and includes a thoughful scene of the C&P running, then coming to a dramatic, slow stop after the power is turned off. The opening scenes may be a bit deceptive, because it begins with a close-up of the dew on the grass outside the barn, then this crusty old printer arriving in his equally crusty old Volvo station wagon. Once inside, we set some type, print some things and generally discuss this new renassaince of letterpress printing, which has come nearly 50 years after the commercial world considered the technology obsolete for most work...
The film ends with a scene of Alan sitting at the keyboard of Barry Mueller's Intertype - which Barry used for many years until moving it to The Excelsior Press a few years ago...
Keep an eye here - or on
her web site
- for future venues where the story can be seen... Eventually, we hope that Kiss The Paper will be accepted and shown at the
Sundance Film Festival
, where Fiona has already won a series of awards for her work.
Fiona Otway is editor of

Hell and Back Again

, directed by Dennis Danfung and honored as the

best film

in International Documentary Competition at the

2011 Sundance Film Festival.
---
April 2, 2011
Andrea & Joe Lanich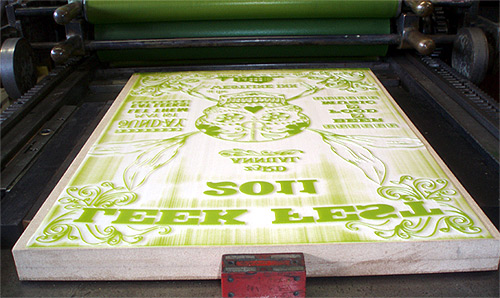 (
Laughing Owl Press
) came by again to use the Vandercook to print some 3-color posters that are too large to print on their Heidelberg Windmill. But this time, they brought an entirely new style of plate - laser-cut Delrin plates that Joe made on Joe's newest 'print-shop' tool - a flat-bed laser cutter. (Joe's the fellow, btw, who made his own photo-polymer plate maker - complete with cool digital controls...)
There were some issues to overcome, but the laser-cut Delrin plates seemed to handle the ink pretty well, and after a rather long day at the press, they went home with a nice pile of 3-color posters, printed on some nice smooth chipboard. You might see the end result on their web site - or here, once we get a photo of the one left on our display wall.
April 5, 2011
If you are interested in updates to the new letterpress documentary video,
"Kiss The Paper
", by Fiona Otway, it is now listed on the
Internet Movie Database
April 11, 2011
Wow!
What a trip! Just back from adventures to
North Central Minnesota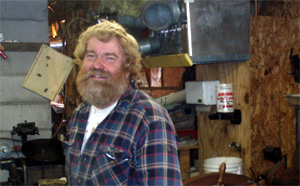 - where the lakes still have 18 or more inches of ice on them, and some diehards are still ice fishing - even though the daytime temperatures are in the comfortable 50s.
But there's much more than ice fishing in Isle, MN. We visited
Mike DeCoursey
at his home letterpress shop and then at the offices of
The White Pines Times
on the grounds of Minnesota's
White Pine Logging and Threshing Show
which is held annually on Labor Day Weekend.
This visit produced so much information, so many photos and such a story, that it deserves its own set of web pages with photos and captions and everything. But for now, since I just returned home this afternoon and still have to unpack, this brief outline will have to do: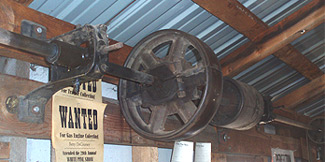 Between Mike's shop and the newspaper office, we saw some amazing things; a number of hand-fed platen presses which
look like
C&Ps, but aren't;
a hand-fed Cranston Newspaper press operated by a drive belt connected to a
line shaft
which in turn is powered by a 7-hp hand-start, single-cylinder gasoline engine. This across-the ceiling line shaft even drives drives their Linotype, the hand presses and just about every other machine in the shop - except for the 36-volt dc motor driving the trim saw. Yes. 36 volts. Direct Current, in fact. The Minnesota
White Pine Logging and Threshing Show
is "off the grid". They produce their own electricity using a variety of historical 36 volt dc generators. Some of their antique generators even supplied power to entire towns long ago.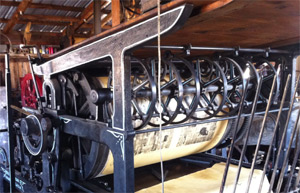 And the newspaper office at White Pine wasn't the only fascinating part of the visit. Mike's father used to use this old Cranston press to print the local newpaper - all 2500 8-page copies each week for many years. And, although his press may represent 19th-century letterpress technology, they did set text using a Linotype and used a Ludlow for headlin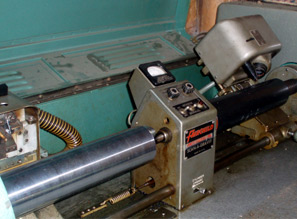 es.
But Mr. Decoursey also looked to the newest technology to make his newspaper better. This newest technology is a
Fairchild Scan-A-Graver,
circa 1950. This device would scan a photo mounted on one drum of a central shaft and simultaneously engrave a plastic plate on a similar drum to the left of the scanner - but still on the same shaft. This plastic plate would be mounted on a base and print a pretty darned good halftone. This machine was the newest thing in 1950's letterpress technology and quickly appeared at many local newpapers throughout the USA. For the first time ever, a remote local newspaper could make their own engravings - particularly halftones - of events which occured only hours ago. Sadly, the plastic used to make the plates is no longer readily available. But if Mike can get some, he can still make letterpress printing plates from image to plate in minutes - with one device.
As I mentioned at the beginning, there is so much to tell that I will have to create a few more web pages to cover this story and the new things I learned during my visit. So. Although there was still 18 or more inches of snow on the lakes in northerm Minnesota... not so back home. Short pants and t-shirts today - all of a sudden; after one of the longest and continually coldest winters in a long time - and with our last snow on April 1st, today, it's t-shirts and shorts and gotta cut the grass.
...And then unload the Pearl and begin catching up with promised projects in the print shop.
- Alan


---
April 25th -
Update on our favorite letterpress film...
Fiona Otway's
film
"Kiss The Paper"
- about 1930's style letterpress printing during the resurgent interest in letterpress circa 2010 - was nominated recently among other entries for
"Best Non-fiction/ Visual Screenplay- Non-fiction"
at Temple University's 13th Annual
Diamond Film Festival
---
May 2, 2011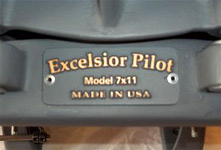 Well, the secret is out. Noted press rebuilder Louis of Rhode Island has begin manufacturing - and is taking orders for - what is likely - with the exception of the 1990 model Kelsey Excelsior Model X, the first new table top letterpress made in the past fifty years.


The Exceslsior Pilot 7x11 Table Top Platen Press
is now available to the public. Unlike copies made in the past of the classic
Chandler & Price Pilot
, this is a new press, based mostly upon the traditional Pilot design, but incorporating new features and a larger platen size. This is the press the letterpress community has been waiting for. We wish him luck in his endeavor and are proud of the "from a printer's perspective" advice we were able to share with him during this project - not to mention the presses, parts, photos and dimensions we shared with him during the R&D phase...
see more.
May 2, 2011
Well, I guess this old barn has some sort of "letterpress stuff" magnet in here - either that or all of the other presses, type cabinets, etc. have their own attraction to more of their kind. My neighbor Jim - aka "Jingles", long a fan of the Excelsior Press and a man who refers to me only as "Printer" (he likes nicknames) showed up with a classic tall Hamilton Cabinet today. What to do with yet another type cabinet when I don't have room for the ones I already have? This old H
amilton 31 case cabinet is a beauty - patented 1891
- and filled with cases that have rested in it for perhaps 100 years or so. I would benefit from some tlc, but we simply can't add anything more to our projects list, so I decided that the best thing to do is to pass it on at a bargain price to someone who does have the time to clean and restore and put it back to use. I'll post a page about it as soon as I can and l will come back here and leave a link to it from here and from our fundraising page...

May 5, 2011

Jessa and Alex
of
SqueezeMyHand.com
came by the shop today to get some "hands-on" experience operating a full-sized platen press - like the 12x18 C&P they recently purchased from
our friend Dan
in Norfolk, Virginia
A
lt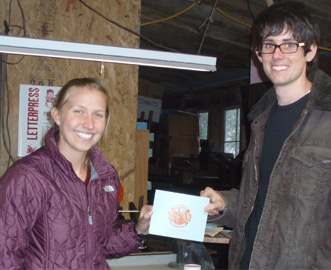 hough they plan to print from photo-engravings and/or photo-poymer plates made from computer-generated images, I managed to convince Jessa that learning to set hand type was a skill worth pursuing, as a willing and enthusastic student, she dove right in and did, indeed set their names in 18pt. Americana and locked up the type in a form which included one of Gene Mosher's old Kelsey advertising engravings.
The print is hard to see in this photo, but it came out well and she d
ecided that it will make a nice postcard to send to friends. Jessa took notes while we discussed details of cleaning, setup, moving and maintenance of the larger 12x18 Chandler & Price press and then Alex took photos while Jessa learned to set type, lock up a form, mix inks, ink the press, set packing & gauge pins & print these cards. Afterwards, we set up the old Gordon to do some scoring - the old fashioned way using paper tape to build a channel for the score to press into. All in all, it was a very productive "afternoon" of printing lessons. I remarked that we (briefly) covered in one day what would normally take a semester to teach in school. But the student's enthusiasm, the hands-on experience and the reminder photos should make up for the compressed schedule.
We also did something new this time... Realizing that most of these C&Ps were set up for experienced press operators to run at 20-30 or more impressions per minute - and mindfull that for a new printer to attempt to feed at such a speed is just downright dangerous, we focused instead on skip-feeding and using the impression throw-off lever to make an impression, letting the press run through an additional cycle or two to make feeding and delivery safer. I think it was a very good idea and will expand upon the technique in a new web page as soon as I can write it up...
---
May 6, 2011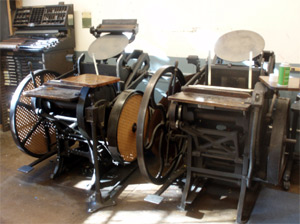 Irwin and Clara
are the two 10x15 C&Ps that have been used at
The Fieldston School
in The Bronx, NY since
Irwin and Clara Strassburger
donated them to Fieldston in 1929.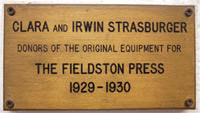 But times have changed, and Fieldston's old print shop has moved on to the modern digital world, so the decision was made to preserve Irwin (early Series 10x15) for ever as a treadle-operated press and move Clara out to a new home.
But first, we were asked to swap out the New Series crankshaft with the Early Series straight shaft so that a treadle could be installed on old Irwin.
Normally, this would not be a problem;
the flywheel, gear, crankshaft and drive wheel of the Early Series 10x15 are generally interchangeable with the same parts on the Early Series C&P.
However,
in this case, we found the the Early Series crankshaft (circa 1900) is slightly larger in diameter than the same crankshaft on the New Series (1929) press.

So, we took the parts back to the shop, borrowed an expandable reamer (photo to the left) from our neighbor Doug and proceeded to ream out the flywheel, drive wheel and drive gear to fit them to the crankshaft so that we could mount the new treadle purchased from
Hern Ironworks
in Idaho
.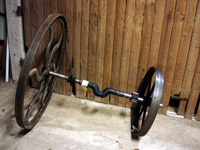 But, not to worry; after working the reamer through the parts in question, we were able to make perfect fit of the New Series crankshaft into the Early Series parts. You can see the complete fitted assembly in the photo to the right.
Next, we'll return to The Bronx with the parts, re-install them and mount the treadle. Then, Irwin will be returned to service as a treadle-operated C&P and Carl Smith, manager of the Fieldston Press, will be able to show his students how letterpress printing was done over one hundred years ago - and the students will have the opportunity to have a hands-on experience that few, if any other schools in the country can offer....

Tuesday, May 10


Well, we made our trip from quiet and rural Hunterdon County, NJ to the quiet and urban reaches of upper Manhattan in New York City. A long drive, a day's work and now Carl Smith is a happy man. We have installed the New Series crankshaft and a new Hern Iron Works treadle on the old 1910 Early Series Chandler & Price platen press at The Fieldston School in The Bronx, NY. - and it works - nicely.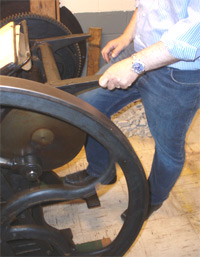 The photo to the left shows Carl "Kicking his treadle press", as it was said in the old days - "kicking" was the 1910 term for pumping a treadle. Kids all over America did it. Nearly every town or burb had a print shop where some teen-aged kid found himself a job as a printer - "kicking a treadle press"... and hand-feeding cards or stationary or what ever "job work" came by that could be produced on this press.
But today, that trade is gone and the skill is gone for all except those few who chose to "kick a treadle press" and print the old-fashioned way. For most folks, the computer, ink jet and laser printer are the current technology to use....
Fieldston Press once had their own Linotype - and students set and printed their own school newspaper - and much more. It was quite an operation. But times have changed and now Fieldston students do their typesetting and graphic design projects using networked Macs and hi-res color laser printers and large format color plotters. But the end result has not changed - printed pieces of information, created by the students. As part of their well-rounded curriculum, Fieldston School allows their students to use the technology of the day for printing all sorts of things. In 1929, when this press first arrived at Fieldston, that technology was hand-set type and a hand-fed platen press. But not kicking the treadle, this press came with a motor. And it was used to print many important items over the 80 years that it was in regular service.
But now that "Irwin", as this press was named so long ago - is sort of "retired" from production work, we have installed a crankshaft and a foot treadle to make it a "greener" press and a working museum piece - illustrating printing technology as it was in America for nearly 100 years - from the 1870's through the early 1970's....
I began kicking the treadle myself in 1964 - at the end of an era. We still kick the treadle on our old Gordon; just never felt a need to mount a motor on it... For longer hand-fed runs we use the motorized 10x15 C&P, and for even longer runs, the Heidelberg Windmill. But for short run scoring, or printing cards, we still kick the treadle on the Gordon or the Pearl. It's a perfectly practical way to print short-run jobs...
---
Monday, June 6 -


Well, it's happened. Fiona Otway's new documentary film -
Kiss The Paper
(filmed at The Excelsior Press & at
The Laughing Owl Press
last November) now has a
trailer online
and is hitting a pretty impressive Film Festival -
SilverDocs
- the Discovery Channel's own film festival.
---
and, if we may flatter the director a bit, here's what the festival director said about it:
From the festival director:

"The screening committee was unanimous in their appreciation for the film, which we all found to be deeply riveting and inspiring. I believe that the subject matter will resonate with our audiences and it will be an honor to present it at our Festival."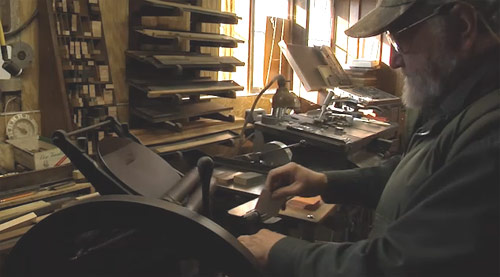 ---
Kiss the Paper
will be shown at
SilverDocs
on June 21 & 24. And, if things work out as we hope, I may be there as well. Please take a look at
the trailer at Vimeo
and let them know if you like it.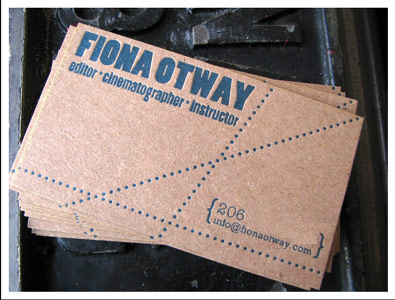 Fiona Otway business card by
Laughing Owl Press
---
---
---
---