THE EXCELSIOR PRESS MUSEUM PRINT SHOP AND RESTORATION FACILITY

---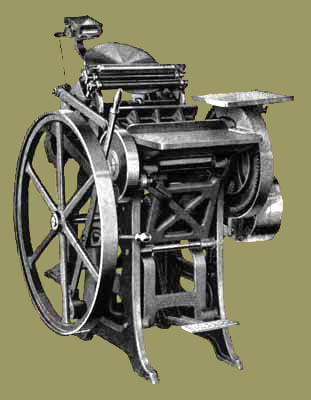 Prop Rentals
for Print Shop Scenes
working equipment available from the Museum Collection

of the


Excelsior Press


~~~~~~~~~~


---
If you want period accurate printing presses & misc print shop equipment for your movie, tv show or stage play, contact us. We can supply you with real, working print shop equipment to give your production historical accuracy. We know the history and can guide you to present realism in your production.

Shows we have supplied scenes or props for:
1985 - You Can't Take it With You - oft-produced play by Kaufman & Hart
2008 (?) British tv came to film a scene for Jack the Ripper in America
2008 - Emerson's video biography for RWE.org

2009 - White Collar - for USA Networks

2011 - Newsies the Musical - Paper Mill Playhouse, then Broadway

We also have our own Youtube Channel, filled with short videos on how to use this equipment

Why to use us:

First of all, I like - and collect - old printing presses - and have studied letterpress printing since 1962. I have been in many old letterpress shops - even found an old newspaper out in PA that was being used to print a newspaper and was

run by a waterwheel

.

And, while taking a break from war, I also found a press in Saigon, Vietnam that was being hand-fed to print a weekly newspaper.



---
I began printing when I was 12 (in 1962) and had the benefit of knowing and visiting and occassionally working for quite a few old printers during the 1960's. I would visit printers in the nearest citys to my home - Summit & Plainfield, NJ.

In 1963, I began to visit Mr. DeCasseres at

Decasseres Printing

in Plainfield. He would come to his shop in the morning dressed like an executive going to his office. Quite the gentleman. When he began work, he would replace his suit jacket with a printer's shop apron and print in broad view of anyone walking past his shop. He was the best-dressed printer I ever knew. I just wish I'd taken photos!

And, in the storefront right next to him, was Mr Libery and

Liberty Printing

. Mr. Liberty had come to America from Romania early in the century. He came seeking liberty and took that name for himself - and used it for his one-man printing business. He's the old printer who taught me about the "ink candle" which would sit right beneath the rotating ink disk on his old press and keep it warm in the winter. I laughed when he told me the story of printing in the winter in Romania, but soon found myself using an ink candle on my own old platen press when I used it in the at-then-unheated basement addition to my folks' house.

Oh, there are so many old printers - printers who were old hands in the 1960's - whose memories would often go back

to the turn of the century.

These men are historical figures to me today - William C. Soper, Joseph Ishill, my high-school print shop teacher - Stan Grossman, John Bergen, Bill Christian. They taught me a lot.

I ran my own commercial printing shop full time from 1965-68, then, after a 4-year stint in the USAF, returned to it again from '72-85. And I still do run a commercial shop - but now, it's more of a museum. In any case, I've been at this a long time and still enjoy working with old type and presses.

So. My background and interest in and knowledge of

letterpress printing from 1725-1990 is pretty solid

. If you are working on a scene that takes place in a small print shop - or has a printing press somewhere in the scene, We can take care of it - authentic, period printing presses, cabinets and other equipment of any year within that range. We have a barn fulla presses of all sizes, cabinets, cutters, etc. Even some old Ludlows, and a Linotype. Plus type cabinets - all sizes and style from open wooden frames as used in the 1700's through the newest steel "dust-free" Hamiltons.

---
And they are for rent...

as am I, as your letterpress printing consultant. I teach actors how to act like printers.

---
~~~~~~~~~~~~~~~~~~~~~~~~~~~~~~~~~~~~~~~~~~~~
Please contact Alan Runfeldt with other questions
contact
page last updated July, 2019

---