---
PRESSES & PARTS AVAILABLE

For Sale/Rescue List ~ Presses for Sale Here at Excelsior Press
"Try before you buy" or "Ready to Print"

PRESS PARTS
---
Looking for a really fine table top letter press?
Need parts or information about your own restoration project?
You have come to the right place.
We've been quietly collecting, repairing and restoring letterpress equipment for many years.
We don't have to do the restoration work ourselves; we are happy to help you do your own restoration and/or repair - just ask.

Please note: We don't just paint old presses. We don't "restore" or "refurbish" old presses.

We

REMANUFACTURE

old presses.
We sand-blast, prime and paint all cast-iron parts.
We replace all other parts - shafts, grippers, springs, ink rollers - all NEW.
Finally, we print on the presses we sell before we sell them. Remanufactured, used, what ever. When you buy a press from us, you will get a press that will print as soon as you take it out of the box.

When you buy an Excelsior Restored Press, you are essentially getting a NEW press - fully rebuilt based on factory standards and our own experience using these presses for over fifty years...

If you can make it here to the shop in Frenchtown, NJ 08825,
we encourage you to come visit the shop and "try before you buy"
1
2
- pick the press you want; use it; buy it and take it home with you.
Or, we can ship your press "Ready to Print".

If you can't come to the shop and want us to ship your press "Ready to Print, right out of the box", send us your form* - photopolymer plate, wood-mounted metal engraving, linotype, ludlow slugs or type, and we will set it up to print for you.

You can study our set up and learn from it - the closest thing to "hands-on" training.

Otherwise, if you choose the "ready to print" option, we will lock up a form of our own sample design, set the gauge pins and print samples on your press. When you open the box, all you will have to do is ink up the disk and

begin printing - in five minutes!




Ask about Parts & Supplies..
see our new (under construction) Type Available Page

See our Kelsey Parts & Repair Page
Quick Links to
press model photos



Below is a listing of some of the presses currently available or recently sold..
~~~~~~~~
All presses listed below are currently available or recently Sold
~~~~~~~~


Contact Alan @ Excelsior Press
to check for current availability & pricing
---
---
Used & Restored Table Top Printing Presses

currently available as of September 1, 2018
(list updated 4/13/19)
(type, tools, starter kits available for all presses)
---
3x5 Craftsmen - restored $695

3x5 Kelsey New Style - very good used $500 (spoken for)
3x5 Kelsey Early modern Style - restored $650 (currently in VA)

5x8 Kelsey Model U - restored - $1250 (sold)
5x8 Kelsey Model U - being restored - $1250 (sold)
5x8 Kelsey Victor - 1966 - Pristine, like-new. Used with new rollers - $1850

6x9 Cooks/Kelsey Victor - very good used $1850
6x10 Kelsey Excelsior $2000 (spoken for)

6 1/2 x 10 Early Style (Thorpe's) Pilot - restored $2750 (sold)
6 1/2 x 10 Chandler & Price New Series Pilot
- Good Used, with some work done on it here - $2500 (spoken for)
6x10 Kelsey Victor - recently restored, slightly used - $1750 (inquire)
6x10 Kelsey Model X - very good used $1750 (needs cleaning and adjustment)

7x11 New Style Pearl $1800-$2500 (not yet ready)

9X13 Kelsey Excelsior - good used, with new rollers $1500 (sold)
Vandercook 099 9x13 Galley Proof Press - new impression roller (under contract)

13x21" Nolan Proof Press - good used - $850 (spoken for - maybe)

13x23" Morgan Line-O-Scribe Sign Press - good used - $1150 (sold)

8x12 Chandler & Price Platen Press - Very Good used - $1850 - (sold)
9x12 Craftsmen Monarch bench-top press $2500 (in work)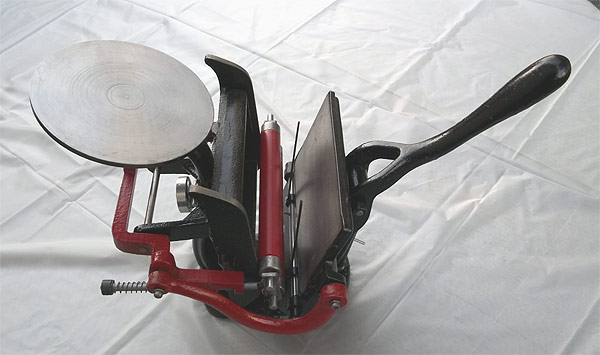 Craftsman Model 3x5
more on Craftsmen Presses
---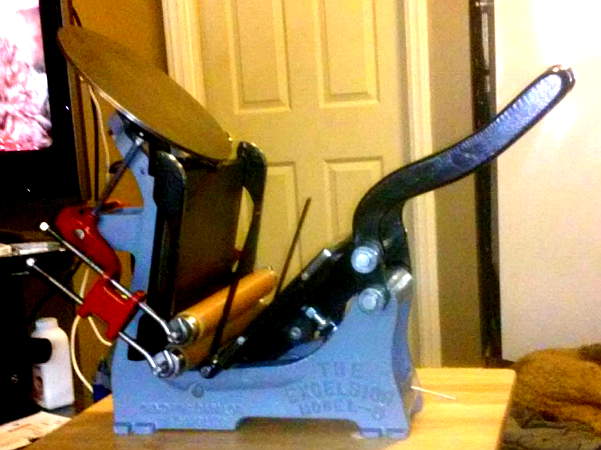 5x8 Kelsey Excelsior - Fully Restored
with new, rollers, roller hooks, grippers & fresh paint

---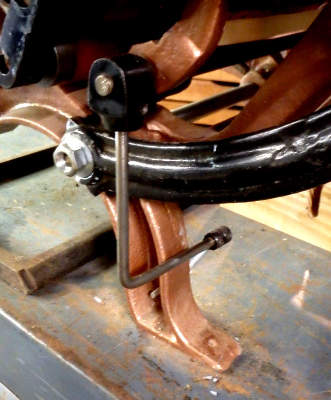 Chandler & Price 6 1/2" x10" Early Series "Thorpe" Pilot
Old Style - note the frame detail
and note the new gripper actuator mechanism - independent of the feed table bracket
more on Pilot Presses
---
Shipping f.o.b. Frenchtown, NJ
DOMESTIC CRATING: $65-$150
INTERNATIONAL BUYERS: THERE WILL BE A $ 150.00 minimum CRATING cost.